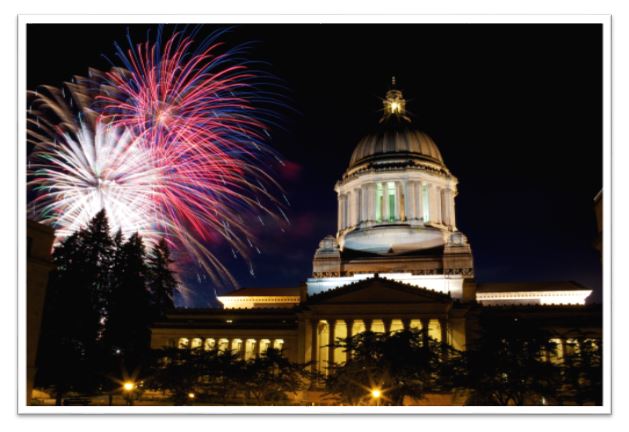 Dear Neighbors,
With most budget negotiations at a standstill, we are slowly moving out of the regular 2015 legislative session and into a special session starting next Wednesday.
I'll send another e-newsletter soon going over special session – and hopefully with more to report on the budgets. If you would like to watch my latest video with some information on the status of the budgets now, and some of my thoughts regarding where the state is as the regular 2015 session winds down, please click here.
In this update, I am going to divert from the usual letter I send and give you the opportunity to hear from some of the up-and-coming leaders in our community.
Omar Jackson and Nikki Saucedo have been helping in my office throughout this session. Omar is 27 year old South Seattle native and has worked on community activism and local campaigns.
Nikki grew up in Kent and is now a junior at St. Martin's University in Lacey, where she is majoring in criminal justice.
It has been wonderful having both Omar and Nikki in the office throughout session, and I look forward to seeing where they go from here. I asked that they each write a short piece to share with you about why they got involved in politics. I hope you enjoy reading their stories.
As always, thank you for subscribing to my e-newsletter and I look forward to hearing from you soon.
Regards,
Senator Bob Hasegawa
RACE to the Capitol
by Omar Jackson

As a young person growing up in low-income neighborhoods a large portion of my life, I never understood the importance of voting. It was something that everyone in my neighborhood knew about, but just didn't care enough to go out and vote. In high school, I noticed that the person who won the election to become class president made the decisions. And even though I had not yet grasped the importance of voting, I watched closely.
After high school, I became involved in childcare services. While employed, I started noticing critical services and funding being cut from the programs that these families and their children depended on. I became passionate about the difficulties these programs face and began to reach out to organizers. This was my start in taking action for my beliefs. I continued to be involved and, during my journey, I came into contact with Mr. Louis Watanabe. Louis was already a member of the Metropolitan Democratic Club of Seattle, and the 1st Vice Chair for the 37th Legislative Democrats of Seattle when I met him. He almost immediately took me under his wing and brought me along with him to all of the events he believed I could get the most information from.
As time passed and I got more politically involved and familiar with procedure and the terminology, I became enthralled by political campaigns and the race to the Capitol. When Senator Adam Kline stepped down for retirement, Louis stepped up to run. Initially I was brought on as a field organizer and I enjoyed being out and meeting my neighbors – the people of my district. But while on the campaign tragedy struck, and my cousin DesZaun Smallwood was murdered in Leschi on April 24th. He was 20 years old.
Not having answers about the murder and being overcome by the feeling of hopelessness was enough for me to stand up and be a voice for the misrepresented young men not only in Seattle, but for all of Washington. Louis encouraged me to get out and tell the stories that so many young males of color don't get an opportunity to tell. The stories of racial profiling, institutional and geographical racism, disproportionality and so much more. I realized that I had a message and a valuable perspective from the inside. Having the mind-set of "this will keep happening to us if I don't do something", and bolstered by my cousin's spirit, I carried on and pushed myself further. What inspired me to get even more involved was the high volume of shootings and deaths of young people of color in the south Seattle area. Louis took notice of my drive and ambition, and made me his campaign manager.
Since coming to Olympia to work with Senator Hasegawa, my skills as an organizer and public speaker have dramatically improved. The experience has helped me set a clear goal for what I want to accomplish in my community, and that is to get more young people involved in politics by showing just how much the Legislature directly effects our communities. The work I did for Louis Watanabe helped me immensely, but the wisdom and information I received from my neighbors of the 37th LD will stay with me for the rest of my life. It gave me a better sense of community, neighborhood stewardship, and that we should take pride and care of the city we hope to raise our children in. I have also learned that although we are often dismissed we have a lot to say, there is a need for what we have to say, and it is our right to say it.
My political journey has only begun and, at this point, the sky isn't even the limit.
Why I Got Involved in Politics
by Nikki Saucedo

I come from a family with absolutely no political background. I did not know the difference between a liberal and a conservative until I took my first political science class. Needless to say, I was not interested in politics. All I ever heard about was how corrupt it is. The political science class bored me, and I never considered having anything to do with politics.
I am now in college studying criminal justice, where you'd think politics would be bound to come up in discussion. But after a teacher of mine refused to talk about the events in Ferguson saying "that's what political science classes are for", I signed up for one, hoping to put what I was learning in my criminal justice studies into the context of current events. Still, I was bored.
After this second try I began to wonder why I found politics so boring when it has such a big impact on society. Because of the demographics of politics, it can be discouraging as a person of color, especially coming from a family of immigrants, to get involved. But I knew it was important, so I decided to pursue an internship with the state Senate.
Working in a hands-on way with the Legislature made me realize the power of politics. It determines so much of what goes on in our society, and affects everyone's daily lives.
I am so grateful that I got the opportunity to be a part of this wonderful experience of seeing what lawmakers really do. I don't think people realize how hard many of them work, and most of the time the process can best be described as organized chaos.
If there is anything I learned by working here, it is that every voice matters. Anyone can be involved and anyone can make a difference. By participating in the process, I found that politics is more than a subject in school.