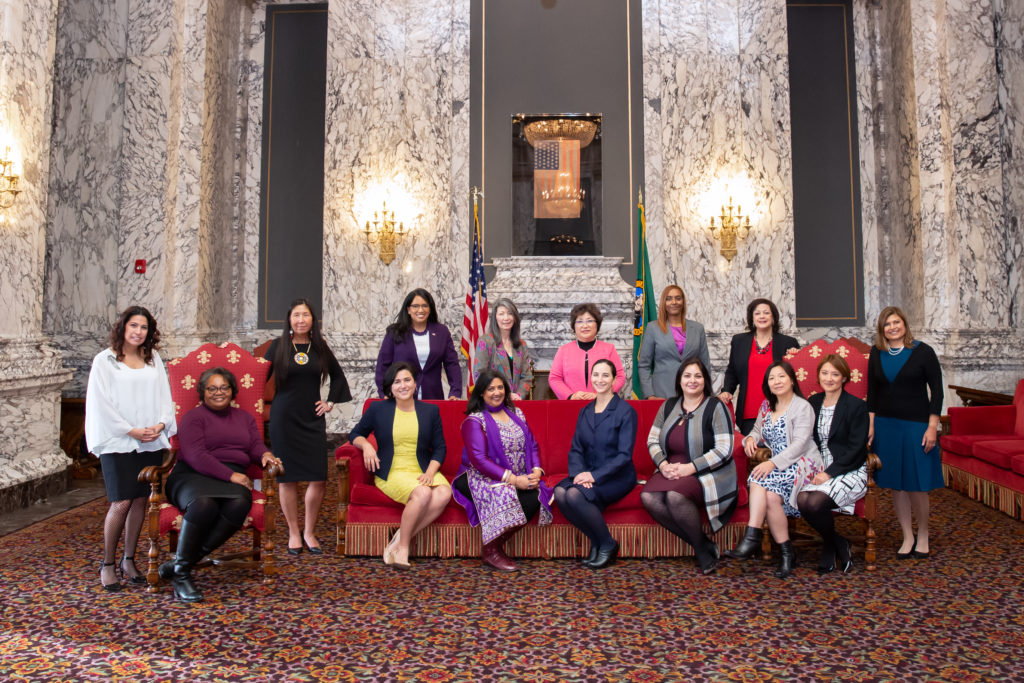 OLYMPIA – The Washington State Legislature welcomed one of its most diverse cohorts of elected officials in state history on January 14. The most recent class includes a female majority in the House Democratic Caucus with women of color serving in both the House and Senate leadership ranks.
Washington currently ranks fourth in the nation in terms of gender parity in the state legislature.
"Today is a resounding visual and symbolic demonstration of the diverse strength and talent that comes when we ensure our government is reflective of the people we represent," stated Rep. Kristine Reeves, D-Federal Way, who will serve her second term in the House. "I am proud to count myself among the largest induction of women and people of color to the legislature in this state's history. I look forward to fighting for families and putting people first as we work to represent all Washingtonians."
"We doubled the number of women of color in the Senate in 2018, and again in 2019. We now have the most diverse legislative body in Washington state history," said Senator Manka Dhingra, D-Redmond, who serves as the Senate's Deputy Majority Leader. "We are finally starting to see elected officials reflect the diverse communities that make up our country. Policies developed with input from diverse stakeholders work best to address all of our needs." Dhingra is the first Sikh elected to any state legislature in the nation.
Senators Dhingra and Rebecca Saldaña, D-Seattle, both serve as Deputy Majority Leader, making them the highest ranking women in the Senate. They are joined by newly elected Senators Mona Das, D-Covington and Emily Randall, D-Bremerton.
Senator Das is a small-business owner who moved to the United States from India with her family at eight-months old.
Senator Randall is a community organizer. She plans to focus on affordable college, apprenticeship and job training programs.
The newly elected women of color to the House of Representatives include Reps. Melanie Morgan, D-Parkland, Debra Entenman, D-Kent, My-Linh Thai, D-Bellevue, and Debra Lekanoff, D-Bow.
Rep. Morgan is the former School Board Director for Franklin-Pierce County and US Army veteran. Prior to her school board service, she served as the Commissioner on the Board of the Pierce County Housing Authority and as a member of the Board of Community Health Care.
Rep. Entenman is the former District Director for Congressman Adam Smith. She was in the inaugural class of Seattle/County's Head Start program, later serving on the Head Start Parent Council.
Rep. Thai is the former Board President of the Bellevue School Board and Vice President of the Washington State School Board Directors Association. Prior to her educational service, she was a practicing pharmacist, volunteered as a medical interpreter and co-taught in Vietnam's first nursing graduate program. She is the first refugee woman to serve in Olympia.
Rep. Lekanoff is the Swinomish Governmental Affairs Director. Lekanoff is the first Native American woman elected to the House.
Freshmen members will join Reps. Lillian Ortiz-Self, D-Mukilteo, Kristine Reeves, Cindy Ryu, D-Shoreline, Mia Gregerson, D-SeaTac, Sharon Tomiko-Santos, D-Seattle, Vandana Slatter, D-Bellevue, and Monica Stonier, D-Vancouver. Stonier is the current Majority Floor Leader and Ortiz-Self is the current Majority Caucus Vice Chair.
###
For information: Bre Weider, Senate Democratic Communications, 360-786-7326