Senate budgets
On Friday, the Senate passed its proposed supplemental operating, transportation and capital budgets. The Senate budgets are responsible and balanced, with services and projects that deliver for Spokane and the entire state. Here are a few highlights:
Operating budget
Meets our constitutional obligation to fully fund basic education
Reduces property taxes this year
Invests in mental health services
Increases funding for the State Need Grant, which helps low income students attend college
Transportation budget
Maintains funding for the North Spokane Corridor, Central City Line, and U-District Bike and Pedestrian bridge
Invests in a public education campaign in Spokane County about the road damage and repair costs caused by the use of studded tires
Capital budget
The supplemental capital budget includes funding for the following projects:
New outdoor annex area at the House of Charity Homeless Shelter
West Central Community Center's roof replacement project
KYRS Thin Air Community Radio expansion
South Gorge Trail development along the Spokane River
Pages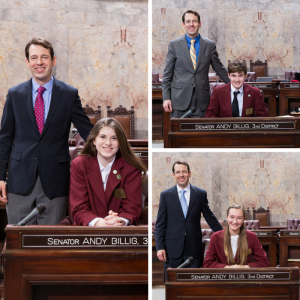 We were lucky to have three fantastic pages from Spokane here this session. Bella, James and Katerina each spent a week in Olympia learning about the legislative process, participating in a mock committee hearing, and serving on the Senate floor to assist during debate and voting. It was a pleasure to get to know them and I look forward to seeing them develop into strong leaders for Spokane.
You can learn more about the Washington state Legislature's page program in this video.
Know a high school student who might be interested in paging next year? Have them apply here!
Keep in touch
Please keep in touch throughout the legislative session. I value your input as we work to improve opportunity and prosperity in our state. Do not hesitate to contact me if you have a comment, idea or question.
You can reach me by email at andy.billig@leg.wa.gov or by phone at (360) 786-7604.
Onward!
Andy