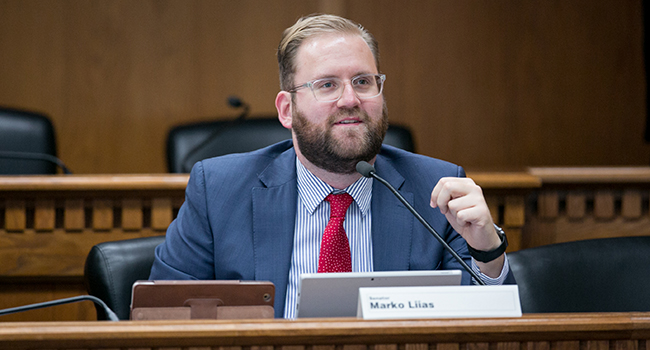 Senator Marko Liias represents the communities of the 21st Legislative District, which includes neighborhoods in Edmonds, Everett, Lynnwood, and Mukilteo.
A lifelong Washingtonian, Marko was born and raised in the communities he has represented in the Legislature since 2008. After graduating from local Mukilteo public schools, he was the first in his family to go to college and he worked his way through Georgetown University with the help of student loans and scholarships. He received a Master's in Public Administration from the Daniel J. Evans School of Public Policy & Governance at the University of Washington.
After college, Marko helped lead a small family business specializing in green residential construction. It was his involvement in the local chamber of commerce that led Marko to consider public service. He was first elected to the Mukilteo City Council in 2005, where he partnered with residents and a community group to save over 100 acres of beautiful forestland in Japanese Gulch from development, preserving it as parkland instead.
In 2008, Marko was appointed to the House of Representatives where he won re-election three times. In 2014, he was appointed to the Senate, where he's currently serving his third term as a senator. Throughout his service in the Legislature, Senator Liias has focused on policies to build an economy that works for everyone and to create strong pathways to education and opportunity, while ensuring a focus on equity and social justice for all Washingtonians.
Senator Liias was the prime sponsor of legislation to authorize Sound Transit 3, the largest expansion of mass transit in state history. Working across the aisle, he was a principal negotiator of bipartisan agreements on the largest transportation investment in state history and the most progressive paid family and medical leave program in the nation.
Senator Liias led the effort to protect LGBTQ youth in Washington by banning so-called conversion therapy. He has also focused on tackling the student debt crisis, passing multiple bills including the Student Loan Bill of Rights, a refinancing program for college debt, and a new low-interest student loan program for undocumented students and Dreamers.
In recent years, Senator Liias has focused on creating jobs and opportunity in every part of our state, passing legislation to expand the use of Washington-grown mass timber products, support agriculture through pollinator protection and a statewide soil health program, and  protect the state's aerospace industry from retaliatory European tariffs.
In addition to his service in the Legislature, Marko is a college professor, teaching courses in American Government. He also continues to volunteer with the Kamiak High School Debate Program, serves as a trustee of the Seattle Repertory Theatre, and is an honorary trustee of the National Nordic Museum.
(updated May 2020)