Dear Friends and Neighbors of the 11th District,
Because of election year restrictions on my ability to communicate with you, my constituents, this will be the last e-newsletter I'm allowed to send you until after the November election. During that time, I will also be unable to update my website, or my State Senator Bob Hasegawa Facebook page.
Before those restrictions take effect, I wanted to update you about some important issues currently facing all of us.
Most of you will have heard that Governor Jay Inslee has announced a plan for re-opening Washington state. While I understand there's a lot of pressure to reopen our economy because so many us are facing such deep economic hardships, I remain concerned that, because we still don't know enough about the virus, we might possibly be forced to enter into a second shutdown with even more deaths and economic hardship that could have been avoided. The Governor has decided we must take a phased-in, measured approach to re-opening the various parts of our economy. If we are to reopen the economy, I believe this is the wisest way to do it. I've included more information about the plans below.
We've also heard from a lot of you about concerns for undocumented families, and the lack of support they're receiving from the federal government. While state lawmakers can't make changes to what the federal government is doing, there are organizations in Washington state I've been in contact with that are working to help. You can find more information on the Resources for Immigrants section of the state coronavirus portal, coronavirus.wa.gov.
As a reminder if you haven't already, please be sure to fill out the 2020 Census. The census is essential to ensuring that our communities receive adequate funding for the coming decade, and for ensuring appropriate government representation. For each household that's not counted, our state loses roughly $26,000 until the next Census in 2030!! You can take the census or learn more at 2020census.gov.
Many of you will have received my print newsletter in the mail. This newsletter contains a short update on the 2020 Legislative Session, as well as information about issues I plan to work on in the future. You can read this newsletter online here.
In the coming months, I hope that you all do your best to keep yourselves, your families and your neighbors safe and healthy. I know that our efforts to flatten the COVID-19 curve have required a lot of sacrifices from 11th District residents, and that many of you are facing hardships due to lost wages, salaries, businesses, healthcare, personal relationships and more. My thoughts are with you all.
In solidarity,
Bob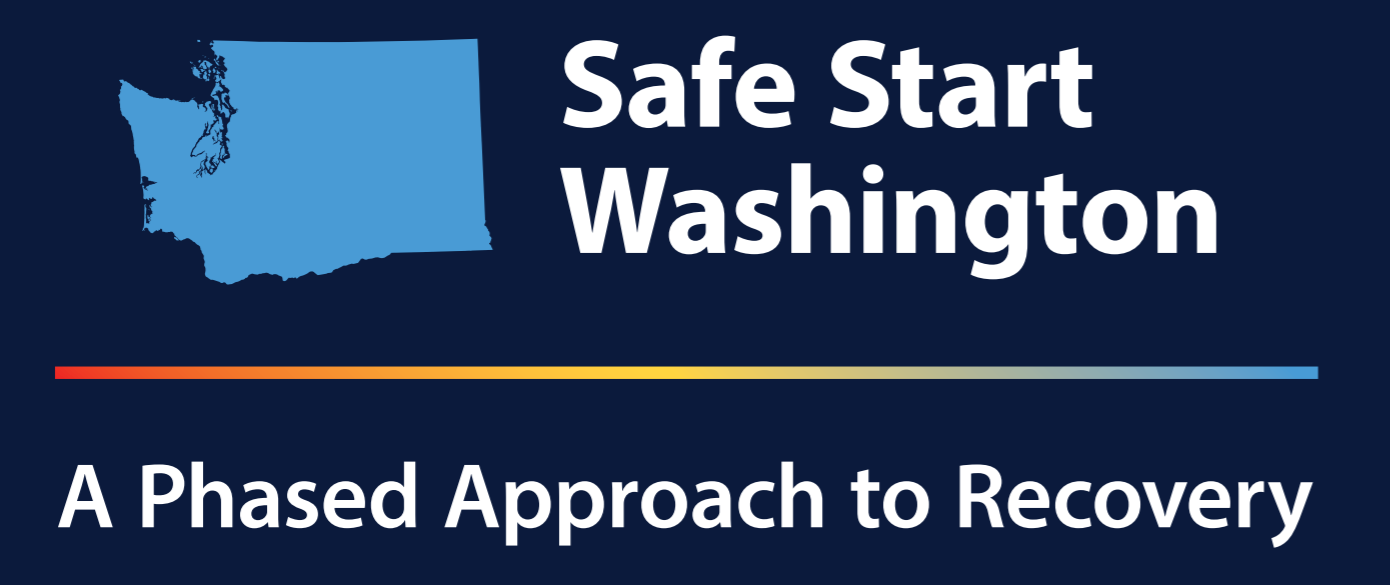 Safe Start Washington
In an effort to keep Washingtonians safe, Governor Jay Inslee announced that the Stay Home, Stay Healthy order will remain in place through May 31. He also announced a phased in, data-driven approach to re-opening the state. We are currently in Phase One of this plan.
All reopening activities depend on our success in slowing the spread of COVID-19 and meeting four goals: health care system readiness, testing capacity, ability to perform contact tracing, and ability to protect high-risk populations.
Every phase will still require physical distancing and appropriate health precautions. During all phases, individuals should continue to practice social distancing, wear a face mask in public, and wash hands frequently.
There will be a minimum of three weeks between each phase in order to allow one complete disease incubation period and an additional week to compile data and confirm trends. The governor and public health officials will look at numerous data sources to determine when we can move to the next phase safely. You can check out their data dashboard here and learn more about the plan here.