Watch Sen. Steve Conway's remarks from the floor of the Washington Senate on Senate Resolution 8464 honoring Pierce County Sheriff's Deputy Daniel McCartney, who was killed in the line of duty on Jan. 8, 2018. The full text of Conway's remarks appears below.
"Deputy Daniel Alexander McCartney was a dedicated public servant who made the ultimate sacrifice protecting the people of Pierce County and, I might add, our state.
Deputy McCartney was many things. A devoted law enforcement officer who served Pierce County, and prior to that, the City of Hoquiam, with distinction. A decorated veteran who served with honor in our nation's Navy. A loving husband to his wife, Cierra. A father to his three sons: Tytus, Tate and Traxton. A coach. A friend. A hero who gave his life doing his duty.
Our grief at his tragic loss – our sorrow for his wife and young sons, and for his family, friends and colleagues – is probably tempered only by our admiration for his selflessness and bravery in the face of danger.
Deputy McCartney had a profound impact on our community and his loss was felt deeply. Thousands lined the route of his funeral procession through Pierce County last week in solemn silence to pay their respects and to show their support for the McCartney family in this most difficult of times. Some 1,500 law enforcement [personnel] and firefighters – from across Washington and beyond, with some 650 patrol vehicles – rode with their fallen brother one last time as he set out on his final journey.
Abraham Lincoln, about 150 years ago, probably laid his finger on the sorrow that we all have in our hearts today, in a famous letter to Ms. Bixby, who had lost two sons in the Civil War. With your permission, madam president, I'd like to read.
'I pray that our Heavenly Father may assuage the anguish of your bereavement, and leave you only the cherished memory of the loved and lost, and the solemn pride that must be yours to have laid so costly a sacrifice upon the altar of freedom.'
And I might add to that, 'in service to our community.'
Deputy McCartney's legacy lies in what he did. In the love he gave as a husband and father. In the fellowship he shared with others as a coach. In his selfless actions as a law enforcement officer. It also lies in who he was: a man guided by service to his community and faith in the almighty.
We are profoundly grateful to Deputy McCartney and to all of the brave men and women who protect our state as law enforcement officers, many of whow are in our galleries today.
We are similarly grateful to their families, particularly those who grieve the loss of a loved one. We mourn with them and seek to honor them with this tribute."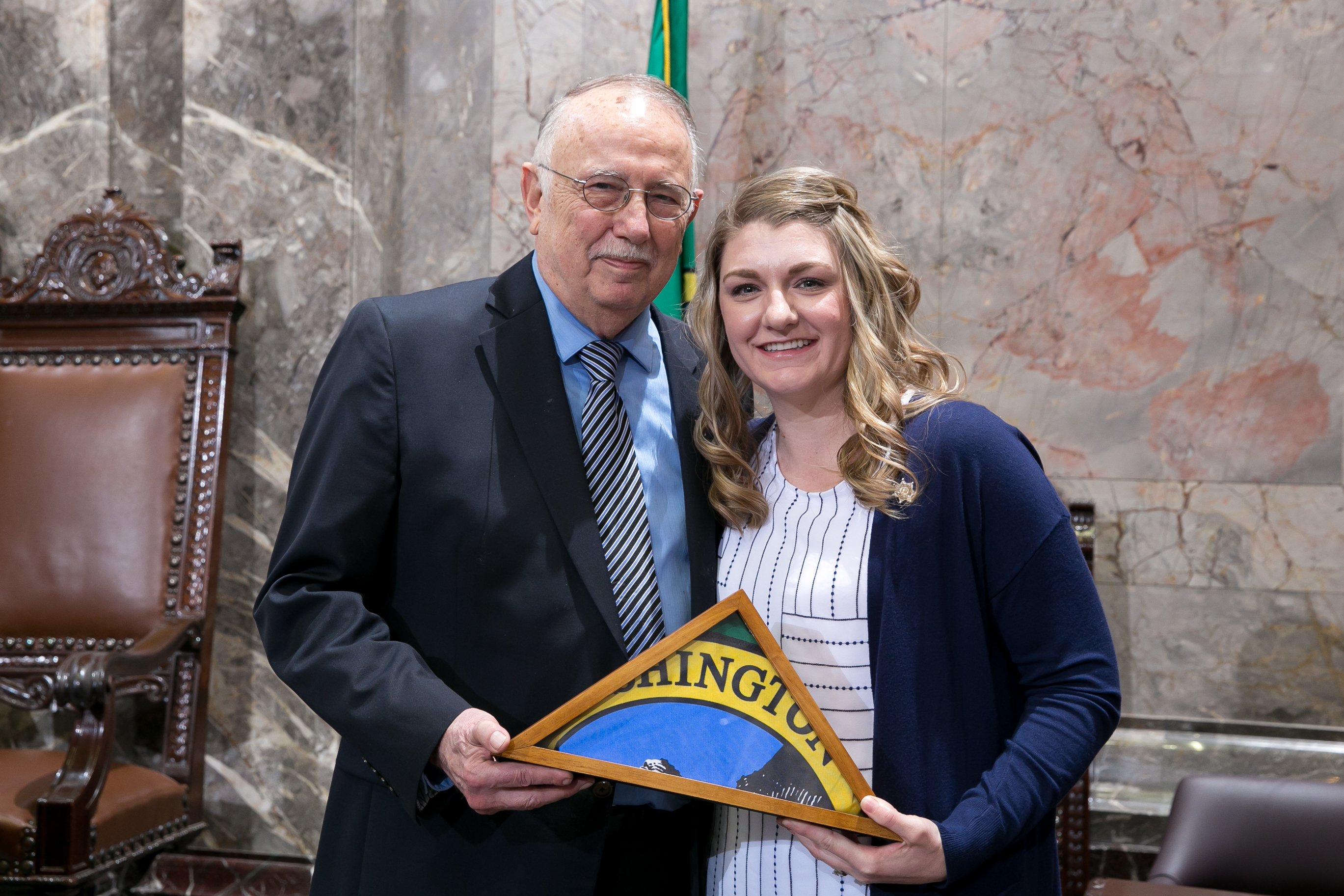 Sen. Steve Conway presents the flag of the State of Washington to Cierra McCartney, widow of slain Pierce County Sheriff's Deputy Daniel McCartney.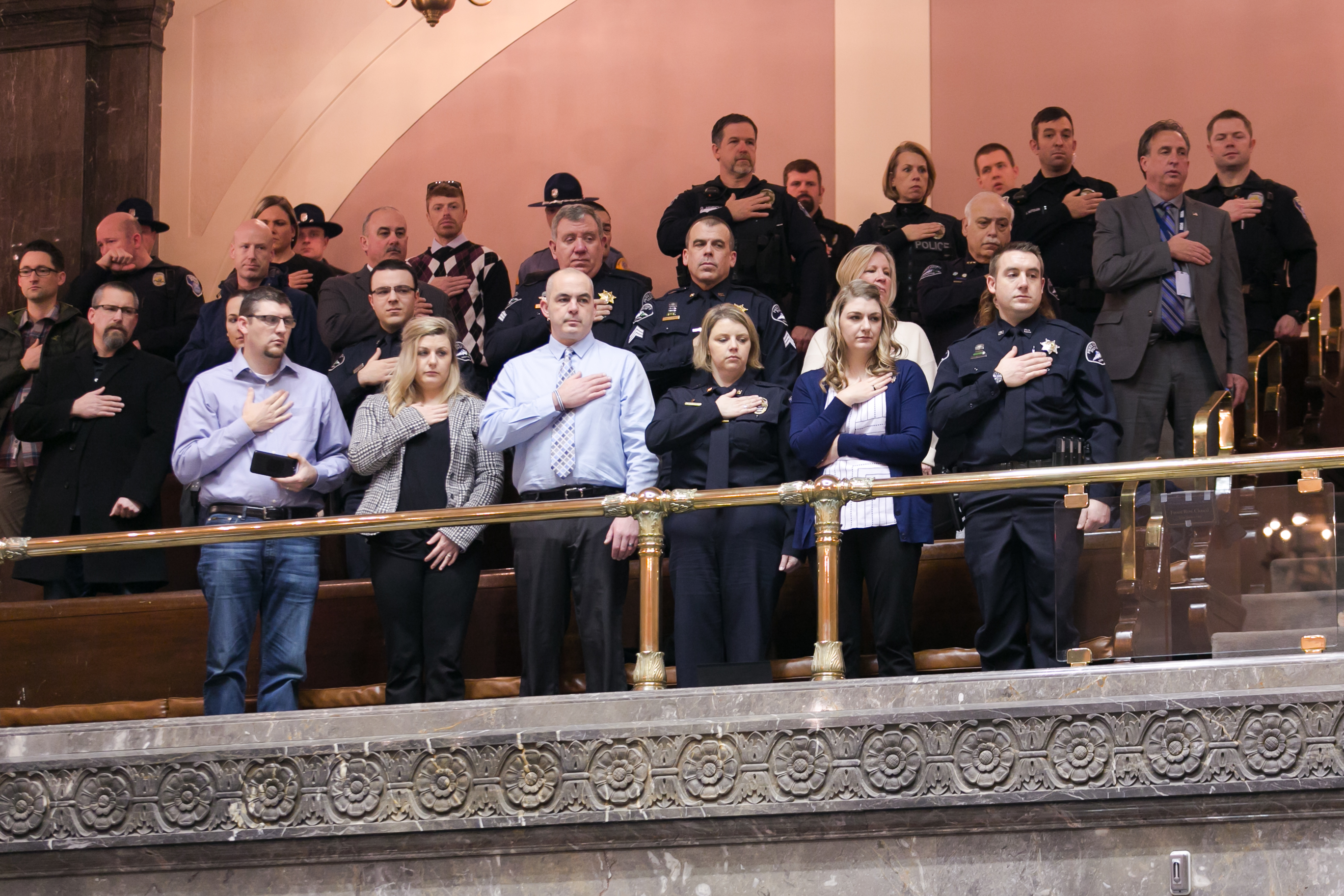 Family members of slain Pierce County Sheriff's Deputy Daniel McCartney and representatives of Washington's law enforcement community during a ceremony to honor Deputy McCartney in the Washington State Senate on Jan. 24, 2018.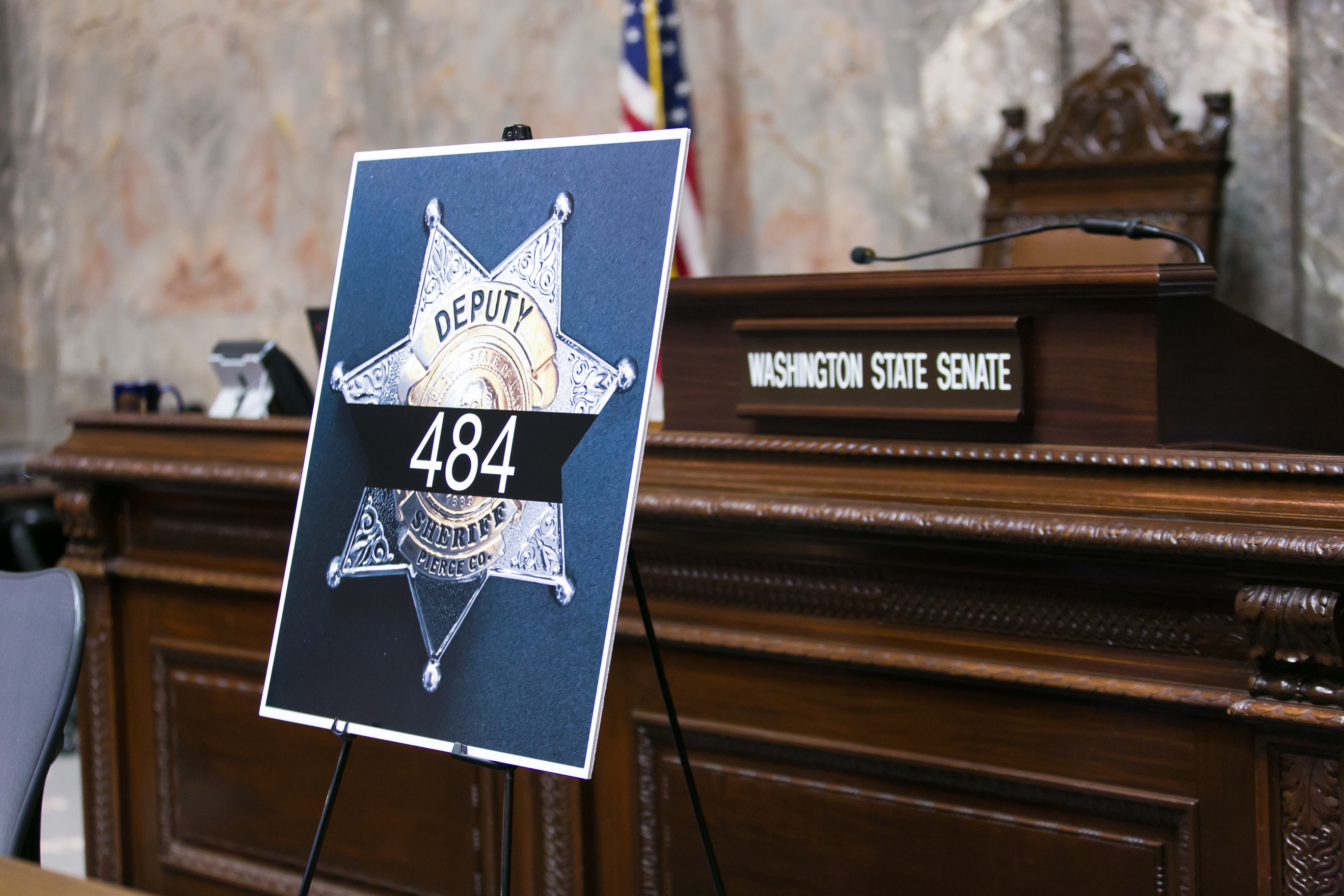 An image of the badge of Deputy Daniel McCartney is displayed on the Senate floor during a ceremony to honor him with Senate Resolution 8464 on Jan. 24, 2018.