Sexual harassment, plastic pollution among other topics of public hearings
OLYMPIA – As the 2019 session enters week two, the Senate will honor the legacy of Dr. Martin Luther King Jr. at noon with a resolution and floor speeches. Public hearings on dozens of issues will also continue this week — 411 Senate bills have been introduced so far; 357 in the House. Senate Democrats will focus on a number of priority bills this week, including legislation to prevent sexual harassment in the workplace, protect people's data, increase public safety from gun violence, prevent plastic pollution, and ensure residents across the state have more access to democracy.
More diverse than ever before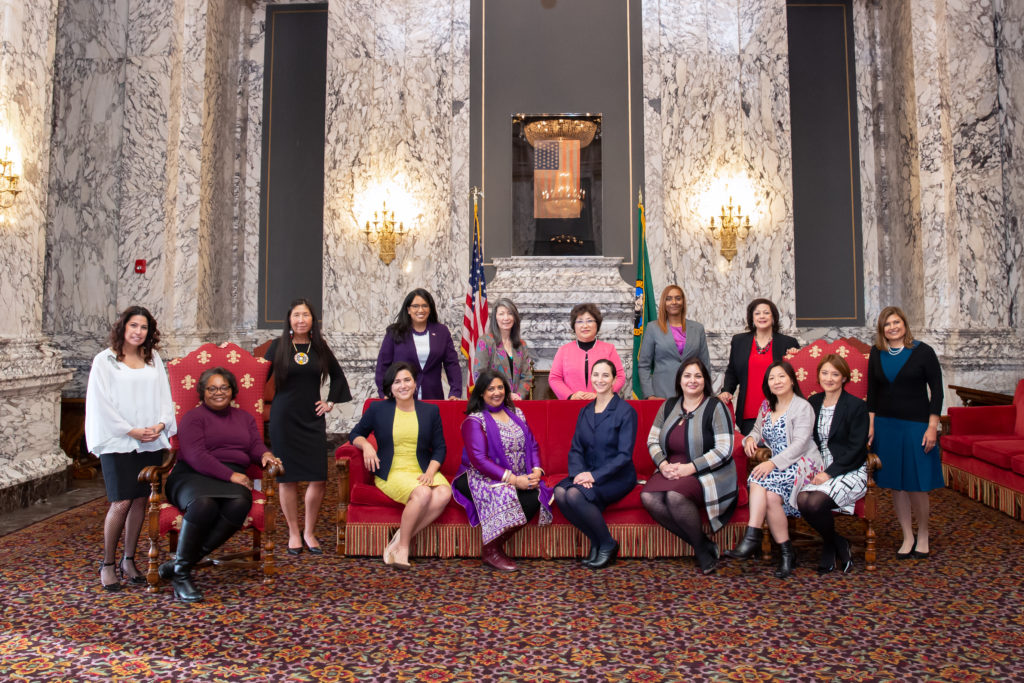 Last week, Washington state swore in the most diverse Legislature in state history. The 2019 class of lawmakers includes a female majority in the House Democratic Caucus with women of color serving in both the House and Senate leadership ranks. Read more.
What to watch this week
MLK DAY RESOLUTION – MONDAY @ noon
At noon on Monday, the Senate will offer a resolution in honor of Dr. Martin Luther King Jr. and his contributions to social justice and racial equality in the United States. A rally is scheduled for 3 p.m. on the north steps of the Legislative Building.
LABOR & COMMERCE – MONDAY @ 10 a.m.
The public will hear proposals to curtail sexual harassment, particularly for low-wage, third-shift workers (SB 5258). Senators Keiser and Saldaña will host a 5 p.m. screening of PBS Frontline's Rape on The Night Shift in JAC ABC.
LAW & JUSTICE – MONDAY @ 10 a.m.
The committee will hear a package of bills relating to guns and public safety on Monday. Bills include a restriction on undetectable or untraceable (3-D-printed) firearms (SB 5061), a ban on the creation, sale and purchase of high-capacity magazines (SB 5062), extension of the prohibition on firearms on school campuses to child-care facilities (SB 5434), stricter removal regulations on firearms used in domestic violence cases (SB 5143), and requiring gun safety and training courses before purchasing a concealed weapons permit (SB 5174).
ENVIRONMENT, ENERGY & TECHNOLOGY – TUESDAY @ 10 a.m.
Data privacy is on the agenda this week, with bills regarding online ticket sales (SB 5321), personal information and breaches in security systems (SB 5064) being heard in committee.
HIGHER EDUCATION – TUESDAY @ 1:30 p.m.
Senate Bill 5393 would transform the State Need Grant into Washington's College Promise grant, a guaranteed source of financial aid for more than 93,000 eligible students.
STATE GOVERNMENT, TRIBAL RELATIONS & ELECTIONS – WEDNESDAY @ 8 a.m.
Senators will hear public testimony on the Native American Voting Rights Act (SB 5079). The bill would amend the amount of information required for voter registration to be more consistent with tribal standards, allowing those with nontraditional addresses to register to vote.
HUMAN SERVICES – WEDNESDAY @ 8 a.m
Overwhelming evidence shows disproportionality in race, gender, and socioeconomic status of youth referred to courts or detained for non-criminal offenses like truancy, breaking curfew or running away from home. Senate Bill 5290 would end the practice.
HEALTH CARE – WEDNESDAY @ 1:30 p.m.
Senators focus on a measure that would establish a public long-term care benefit (SB 5331) that Washington workers would pay into, and eventually benefit from later in life to deal with age-related issues, chronic illness, or disability.
ENVIRONMENT, ENERGY & TECHNOLOGY – THURSDAY @ 10 a.m.
The hearing will focus on a package of bills to reduce single-use plastics throughout the state. SB 5077 would prohibit the sale of plastic straws. SB 5323 would prohibit the use of single-use carryout bags at retail establishments. SB 5397 would require producers of plastic packaging to also take responsibility for its end-of-life management (reuse, recycling, and disposal).
TRANSPORTATION – THURSDAY @ 3:30 p.m.
Senate Transportation Committee Chair Steve Hobbs will unveil a transportation package proposal to help reduce congestion, lower carbon emissions, and move our state forward with modern infrastructure.
EARLY LEARNING & K-12 EDUCATION –
FRIDAY @ 8 a.m.
Senators will hear proposals to de-emphasize standardized testing in Washington's schools and open up multiple pathways to high school graduation (SB 5146, SB 5104).
Click here to view the complete schedule of committee hearings and here for a condensed calendar of the week. For more information about events on the Capitol Campus this week, click here.