Friends and neighbors,
We have all learned to live in a new normal during this crisis. The COVID-19 pandemic has had a devastating impact on public health, the economy, and our way of life. The Stay Home, Stay Healthy order has been tough on all of us, but it's necessary to save lives and is working. During these difficult times, it's important that everyone is aware of the resources available to help them and their families.
In light of this, your 40th District delegation along with additional state legislators will be hosting a Northwest Regional Town Hall on Monday, May 4th at 6pm to discuss the impacts of COVID-19 on our community. You can attend the meeting on my Facebook page, and we encourage you to ask questions during the live stream so that we know your concerns.
You are also welcome to submit questions ahead of time to: https://www.surveymonkey.com/r/PXXGCTP
Rep. Debra Lekanoff, Rep. Alex Ramel, Rep. Dave Paul, Rep. Sharon Shewmake and I are eager to chat with you all and discuss what we as state legislators can do to help our communities right now.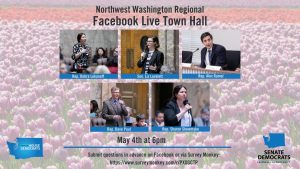 Throughout this emergency, I have been working remotely with my team and have been on countless daily calls with local elected officials, business leaders, non-profits, and members of the governor's office to respond quickly to the needs of our communities. These efforts, though, will be far more effective with your insight.
As always, you can email my office at Liz.Lovelett@leg.wa.gov with questions or concerns, and be sure to check out coronavirus.wa.gov for the most up-to-date information and resources available to help you and your family.
All my best,
Liz