Thanks in part to the legislative efforts of Sen. Steve Conway, D- South Tacoma, the South End Recreational Area debuted its new Spray and Play Water Park in a grand opening ceremony June 1.
Spray and Play is a unique playground that sits on the 75-acre South End Recreational Area campus which is home to the STAR Community Center, Gray Middle School, and the Boys & Girls Club's Topping Hope Center. Conway played an instrumental role in developing the STAR Community Center and has continued to advocate for further improvement of the South End Recreational Area campus.
"This is a great spot to bring the family," said Conway. "This park provides a fun and safe place to play on a hot summer afternoon."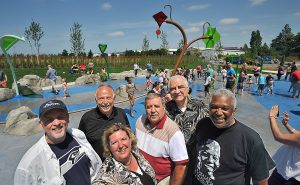 Conway was an honorary guest and spoke at the grand opening.
"Parks boost community morale, provide us a place to exercise, and promote community engagement," said Conway. "When I return to Olympia next fall, I will continue my efforts to keep our parks funded and identify budget opportunities that can lead to new parks getting developed."