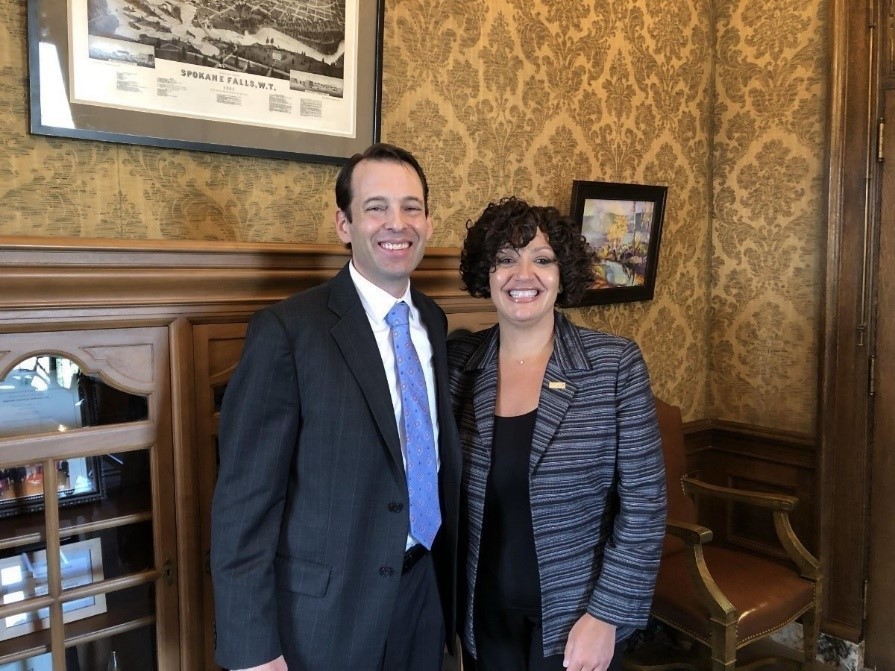 Every year, the governor asks dozens of people from all over the state to serve on boards, commissions, and in agency leadership positions. These "gubers", as they are affectionately called in Olympia, require the approval of the Senate with a simple majority vote just like regular legislation.

Regina Malveaux, the CEO of YWCA Spokane, was recently appointed to the Washington State Women's Commission and stopped by our office in Olympia. Established by the Legislature in 2018, the commission will focus on solutions to address inequality for women in the workplace and in society overall. Regina's "guber" will be on the floor for the Senate's consideration soon. Thank you for stepping up to serve, Regina!
Bill update: Reducing property crimes
One of the bills I am sponsoring this year, SB 5492, received a hearing in the Law & Justice committee last Thursday. This legislation would help reduce recidivism for people who commit vehicle related property crimes by implementing community supervision at the end of their sentence. Supervision helps to provide access to a full range of services, including drug and alcohol treatment, housing, education, and job training. Washington state is the only state that does not have supervision for property crimes, which is one of the reasons we have had difficulty reducing our property crime rate. The next step for this bill will be a committee vote, which will hopefully happen soon.