Greetings from Olympia!
With less than two weeks remaining in the 2017 legislative session, our focus has turned to budget negotiations and how we will direct state spending over the next two years. Senate Republicans and House Democrats have now passed operating budgets that look very different from each other. The Senate has also unanimously passed a bipartisan capital and transportation budget proposals.
Working toward a budget compromise
Every two years, the majority parties in both the House and Senate have a chance to write a budget that will dictate state spending over the next two years. These two proposals provide a basis for negotiations as the session winds down.
Although everyone in Olympia agrees that funding education is our top priority this year, Senate Republicans have released a plan that will actually reduce funding in some schools while focusing their attention on an unfair property tax redistribution scheme that penalizes our communities in the Puget Sound region. Their plan also redefines "poverty" which would reduce the number of students who qualify for assistance. On top of it all, their budget slashes funding for programs that serve the most vulnerable in our society. We are also concerned Senate Republicans don't exactly know what they voted for as recent analysis shows their budget shortchanges education even more than we first thought.
The good news is the House Democrats have released a plan that would make key investments in both K-12 and higher education without making drastic cuts to the social safety net. Their budget would provide funding to modernize school facilities, provide reasonable teacher compensation, and hire more guidance counselors and parent engagement coordinators. To pay for their plan, House Democrats propose a new capital gains tax, imposing a 7 percent excise tax on the sale of corporate stocks, bonds and similar gains. Fewer than 2 percent of taxpayers would see an increase. It also restructures the state's Business & Occupation Tax, shifting the burden from small business owners to the highest grossing businesses. It also closes costly tax breaks and makes progressive reforms to the real estate tax rate.
CTE students show off skills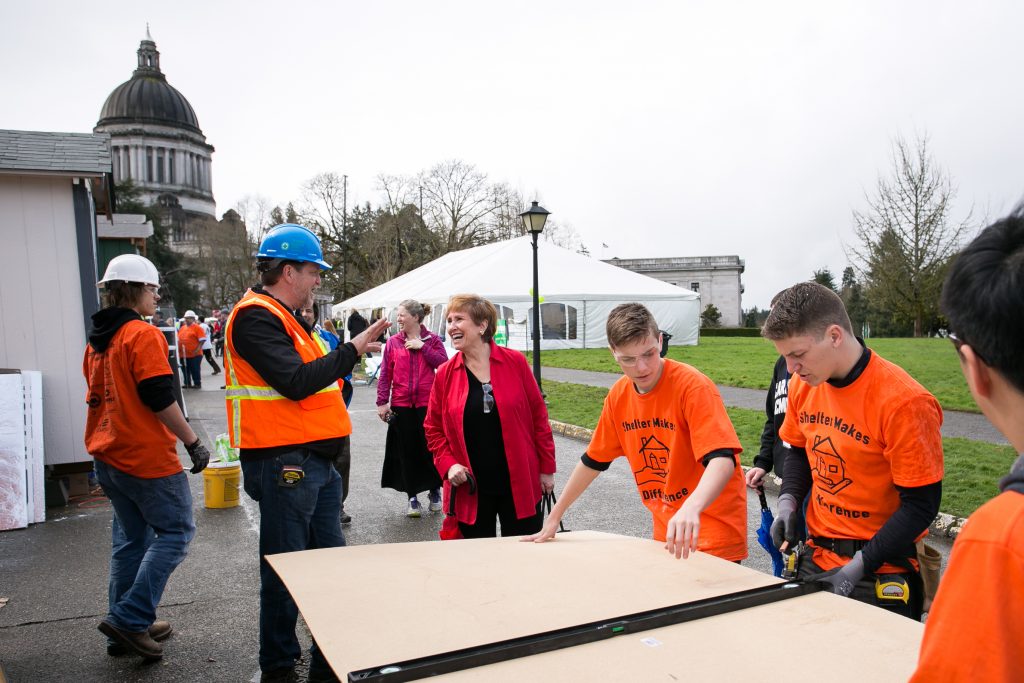 Last week in Olympia I had the pleasure of meeting students from Yakima to Grays Harbor who were finishing up work on tiny houses they have constructed over the past few months. The houses will be used in an encampment for homeless individuals and families. It was so inspiring to speak with the boys and girls at work and hear about how they are learning career and technical skills through their thoughtful analysis of use and design. Building careers for life!
Thanks for the great town hall!
Thanks to all the people who participated in the 41st District Town Hall. We had a productive discussion about funding education without destroying the social safety net, immigration and the governor's executive order, homelessness and poverty, traffic and roads among other things. I was so pleased to be able to share my experiences in Olympia as a new senator with constituents and look forward to more personal contacts in district once this session is over. Hearing from the residents of the 41st is really important to me and how I approach the job.
Stay in touch!
As always, don't hesitate to reach out to me via email, phone or social media including Facebook and Twitter. Thanks for the honor of serving you in Olympia.
Onward!
Lisa
Senator Lisa Wellman
Lisa.Wellman@leg.wa.gov
(360) 786-7641