As our state continues to respond to the evolving coronavirus pandemic, here are some updates and tips I hope you and your loved ones will find helpful.
Please do what our health experts advise
Maintain a distance of six feet or more from others.
If you are 60 years old or older, or have an underlying medical condition, you should self-isolate.
Re-think all daily routines and eliminate interaction that is not essential. As inconvenient as it might feel, your behavior could mean a life-and-death difference for someone else.
Be there for each other. Call, text or email family, friends, neighbors and anyone else you think might need help or reassurance. We can keep our distance physically and still be there for each other emotionally.
Where to find the most useful information and updates
As the scope and nature of the pandemic evolves from day to day, so does the available information and advice. You can sign up for email updates from the state Department of Health here, and you can also check the links below for updates.
Resources across the state have been mobilized
The Legislature responded to the emerging crisis by making sure our state and local health departments have the full resources they need to respond to the pandemic, and my colleagues and I stand ready to take further action as necessary. So far, we have added $200 million to the state operating budget to:
support monitoring, testing and local public health response;
expand unemployment insurance for people who are quarantined;
increase access to health care coverage by opening enrollment for anyone who does not currently have health insurance; and
mitigate catastrophic losses at local businesses, for employees as well as employers.
In addition, we took measures to:
ensure that people receiving unemployment insurance can continue to do so even if they cannot meet the work search requirements due to quarantine;
support businesses that rehire employees who had to go on unemployment insurance because of the coronavirus emergency;
reimburse nursing homes that aid in the coronavirus response;
allow school employees to maintain health insurance eligibility for the rest of the school year even if they come up short of required work hours due to this emergency;
adopt a 30-day statewide moratorium on evictions;
encourage utilities to suspend shut-offs and waive late fees for out-of-work customers;
authorize flexibility on state tax collections and waive late fees on licensing renewals; and
provide flexibility to allow high school seniors to graduate this year if they were on track for graduation before the emergency declaration.
The state Department of Health, in particular, is responding to increased demands for health care workers by registering licensed volunteer health practitioners as allowed by the Volunteer Emergency Health Practitioner Act. We passed this act in 2018 for exactly the sort of challenges we're face now.
If you suspect you may have coronavirus
Call your doctor – do not go to the hospital. Your doctor will make an assessment about next steps, and many are using telehealth options. If you require a COVID-19 test, your doctor will contact public health officials to arrange a test.
If you have symptoms and do not have a doctor to call, you can call the state Department of Health call center at 800-525-0127. You can also call this number if you have general questions about COVID-19 or the state's response. Phone lines are staffed from 6 a.m. to 10 p.m., seven days a week, with interpreters available.
Health care options have been expanded
Recognizing the serious threat of coronavirus, the Washington Health Benefit Exchange has opened a special enrollment period for health insurance through April 8. Call 1-855-923-4633 between 7:30 a.m. and 5:30 p.m. Monday through Friday.
The state Insurance Commissioner has required all insurance plans to cover coronavirus tests with no cost-sharing and no prior authorization requirement for people who meet the CDC criteria for testing. The commissioner has also required insurance plans to allow enrollees to refill their prescriptions early one time in order to maintain an adequate supply. You can find more insurance updates at this link.
Know your unemployment options
The state offers a range of unemployment assistance to employers and employees, such as reduced or subsidized work schedules and benefits, but not everyone knows about them.
If an employer has had to temporarily shut down operations, for example, workers may be eligible for unemployment benefits and the employer may receive relief of benefit costs. If workers are asked to isolate or quarantine by a doctor or health official, they may receive unemployment benefits while they are temporarily away from work. And the Legislature has waived the requirement that people in this situation must be actively searching for work.
You can see the range of options offered by the state Employment Security Department, as well as answers to common questions, here.
In addition, other state agencies are also taking action to help people and businesses disrupted by the pandemic, adjusting resources to address our current extraordinary circumstances. You can access a broader list of resources here.
Meanwhile, this chart offers a short list of options for different scenarios: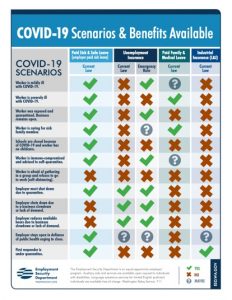 I know these are challenging times, but I am confident we are up to the challenge. If we stay strong as individuals, as households and as a community, we will see this through.