About Kevin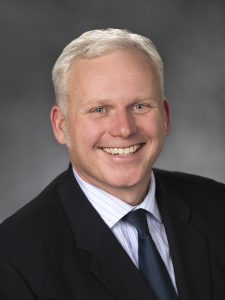 Kevin Van De Wege is a firefighter, paramedic, husband and father. A lifelong Washington resident, he is serving his second term in the Senate. Prior to winning election to the Senate in 2016, he served five terms in the House of Representatives.
As a young child, Kevin's parents instilled the core values of family and service in him. When he was old enough to serve his community, Kevin became a volunteer firefighter, eventually deciding to turn it into a full-time career.
He went on to earn degrees in fire administration and fire investigation, as well as paramedic certification. He also received a BA in Social Science from Washington State University and an MA in Public Administration from Fort Hays University.
The chair of the Senate Agriculture, Water, Natural Resources & Parks Committee, Kevin also serves on the Senate Ways & Means Committee and the Senate Health & Long Term Care Committee.
Kevin's legislative accomplishments include helping to secure permanent, year-round funding for a rescue tug at Neah Bay, and keeping state parks open to the public even in the midst of severe budget challenges. In 2009, he was presented with a "Sound Hero" award from People for Puget Sound for his work to help protect Puget Sound and the Strait of Juan de Fuca from oil spills.
A proud resident of the beautiful community of Lake Sutherland, Kevin and his wife Jennifer enjoy raising their two teenagers on the Olympic Peninsula.