Dear Neighbor,
During the pandemic, it's important to be on alert—this crisis has led to a rash of fraudulent unemployment claims filed with the WA Employment Security Department.
Fraudsters file these claims in innocent people's names using data they have stolen from corporate data breaches, not from the Employment Security Department. ESD paused payments for two days last week to combat this fraud.
Here's what you can do to protect yourself:
Be aware of false websites. If you apply for unemployment benefits, use only ESD's official website: esd.wa.gov.
Applying for unemployment benefits is free. ESD will never ask for a payment to process your claim.
Be wary of solicitors asking for your personal information online or by phone. ESD will only ask you for information through official correspondence and through your ESD eServices account. If we call you, you can ask the agents to identify themselves.
If you get a letter from ESD referencing an unemployment claim number, but you did not file a claim,
Report the fraud here.
You can also try calling 800-246-9763.
If you suspect you have been a victim of identity theft:
File a report with your local law enforcement.
Report the fraud to the IRS.
Use the resources at IdentityTheft.gov.
Request free credit reports via AnnualCreditReport.com and review them for other frauds.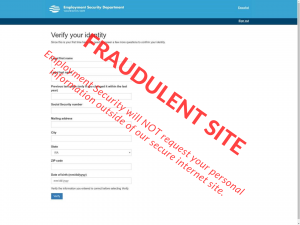 Stay safe and take care.
Sincerely yours,