On Monday, we welcomed our newly-elected members to the Senate and hit the ground running! This year, I will be serving on the Ways & Means, Environment, Energy and Technology, and Rules Committees in addition to my role as Senate Majority Leader. I dive into some of the goals and challenges facing the Legislature in this TVW interview from the first day of session.
Billig's Bills
Typically the Majority Leader only prime sponsors a few bills since, in effect, I will have a hand in working on every bill moving through the Senate. However, I will be introducing a couple of bills that are particularly important to Spokane, including a bill that will increase the safety of oil trains that pass through Spokane and a bill to help reduce property crime. More details forthcoming in a future newsletter after the bills start their journey through the legislative process.
Welcome to the team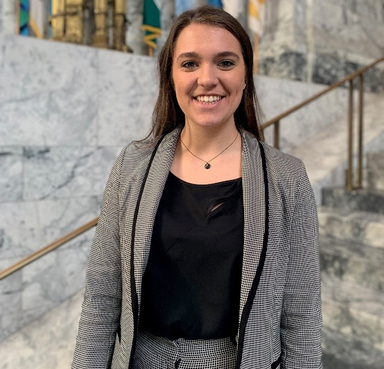 We are happy to have Morgan Rockey join our office as our 2019 session intern. Morgan is a junior studying political economics at the University of Washington. She is originally from Elma, Washington, where both her parents work for the school district. At the UW, she is involved in the Greek community and has worked as an instructor and mentor to first-year students.
Keep in touch
I am honored to represent Spokane in the Legislature and encourage you to stay in touch with our office throughout the session while we are in Olympia. You can reach me by email at andy.billig@leg.wa.gov or by phone at (360) 786-7604.
Onward!
Andy