Friends, neighbors –
After weeks of virtual-committee and virtual-floor-debate practice, after months of gathering community feedback and preparing legislation to answer our neighbors' most pressing needs, after almost a year of weathering this pandemic together – we're less than a month away from the start of the 2021 legislative session!
That's why I'm thrilled to invite you to my Virtual Town Hall, scheduled from 11:00am – 12:00pm PST on January 16. This will be the first Saturday after session starts on January 11 – so I'll be able to report back on how week #1 of virtual session has gone, collect more of your input, answer your questions.
Last year, I had a Town Hall Tour – meeting with neighbors in four cities in our district: Bremerton, Port Orchard, Gig Harbor, Key Peninsula. Our conversations helped me advance our community's values during the 2020 session – making health care and housing accessible, making higher education opportunities attainable, amplifying marginalized voices, championing direct investments in our region's infrastructure and development, making sure all our neighbors get the tools they need and deserve to build healthy lives for themselves.
Though I so looked forward to doing a similar town hall tour again, it's still not safe enough to gather in person. But that won't stop us from staying connected – and now that folks can tune in to my town hall (online or by phone!) from the comfort and safety of their own home, I hope that it will now be even easier to join me on January 16. You'll be able to set up your computer or call in, grab a cup of coffee, and join neighbors from all around the district for a community conversation. I'm looking forward to it!
Click here or on the image below to register, where you'll also be able to submit your questions and comments in advance of our chat.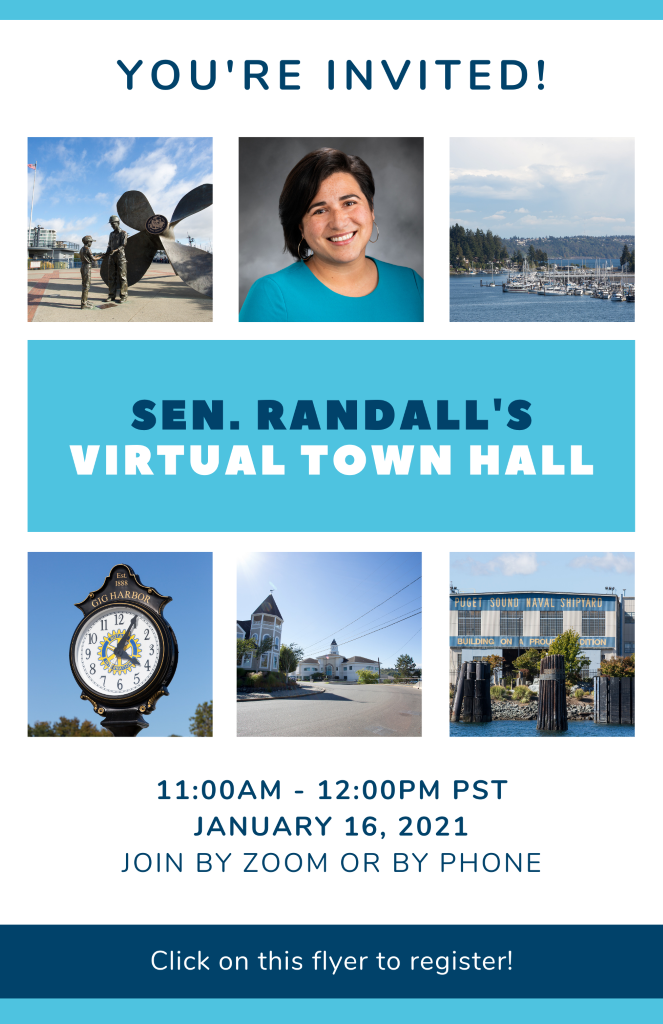 And as always, please feel free to reach out anytime at (360) 742-2539 or Emily.Randall@leg.wa.gov. The more we hear from you, the better our work in Olympia can reflect our shared values and goals.
All my best,