Friends and neighbors,
We are living in uncertain times right now, and things are changing seemingly by the hour. Many of us are wary about where this pandemic is headed. It is important to remember, though, that government officials at all levels are working for you, and trying to alleviate some of the burden created. In the face of this crisis, we are making sure that people are put first. The human-level consequences of coronavirus are palpable and unprecedented in our modern world, and we are treating them as such.
Before the 2020 Session adjourned, the Legislature secured $200 million in funding to confront overall impacts of the coronavirus. This funding will aid with testing, monitoring, and support for local health departments. It will also go towards small businesses and employees by allocating millions towards an unemployment account. The Legislature also acted to:
ensure that the class of 2020 will still be able to graduate by adjusting credit requirements.
Reimburse nursing homes that aid in coronavirus response
Allow people receiving unemployment insurance to continue doing so, even if they can't meet work search requirements
Support small business that rehire employees who had to go on unemployment insurance.
The federal government has also responded with a funding package of $8.3 billion, and $11.2 million of that will come directly to Washington. This weekend, the federal government declared a major disaster in Washington, meaning that some crisis counseling and emergency protective measures will become available. As this situation develops, Washington will continue to work with the federal government for more support.
All of these measures are evidence of your elected officials working to handle this crisis and its broad impacts. This is also apparent through Governor Inslee's continuous updates. Of the recent addresses, Inslee has issued the following:
Restaurants, bars, and entertainment and recreation facilities have temporarily closed with the exception of takeout and delivery services.
All Washington schools are now closed.
Public gatherings of more than 50 people are prohibited throughout all of Washington state.
Gatherings of under 50 are also prohibited unless the criteria for public health and social distancing are met.
All elective surgeries have been halted in order to preserve supplies for healthcare workers at the front of the coronavirus response.
A moratorium on all evictions statewide for 30 days.
Each of these will work to protect public health and safety. Statewide agencies have also reacted to ease the impact of coronavirus. The Governor's office has recently updated its website to include more up to date information. You can visit the site here, and find resources ranging from business and worker support to government emergency actions.
For more specifics about worker protections, see the image below.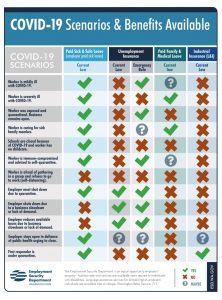 Arguably the most important thing you can do to keep you and your loved ones safe during this crisis is to stay home and avoid leaving if at all possible. Practicing social distancing will work to slow the spread of coronavirus, and keep our vulnerable populations protected.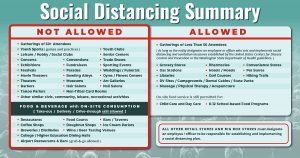 As the financial situation of the United States is also wavering, local lenders and landlords are doing their best to accommodate people in a variety of circumstances. If you anticipate that you will miss payments due to a lack of business or changes in your job security, I would encourage you to reach out to your building managers now.
For more information on financial assistance, visit this resource page provided by King County  Council.
I recently sent a letter to Governor Inslee's office requesting a 30 day deferment of property taxes. Given the circumstances I am hopeful that his office will soon follow through on this request. After those 30 days are up, we will have to reevaluate either an extension or alternate methods.
If you have symptoms and do not have a doctor to call, you can call the King County coronavirus call center at 206-477-3977 or the Washington State Department of Health call center at 1-800-525-0127.
For comprehensive information for different groups, and for recent statistics, visit the most up-to-date website by Washington State at coronavirus.wa.gov.
Many of us are scared and nervous about how far this pandemic will go. Now more than ever is a time that we need to be listening to our friends and neighbors, and helping in whatever ways we can. This will impact each of us in different ways, but we must stay strong as a community.
Best regards,