E-news: Finding Safe Ways to Get Washington Back to Work
Friends and neighbors,
We are all living through uncertain times, but I am proud of Washingtonians for staying home and lowering the rate of infections. By practicing physical distancing, our state is saving lives. Although everyone has been impacted by this crisis in different ways, I want to highlight some updates and next steps forward as we are looking at a recovery plan for Washington.
Governor Inslee recently announced his plan to reopen Washington's economy while continuing to keep people healthy and safe. While the road to recovery is a long one, it's already promising to see some steps forward.
On Friday, Gov. Inslee announced the decision to allow some low-risk construction projects to resume. This choice was made only made after careful consideration with industries and the governor. The construction industry came to the table with detailed plans to protect their employees throughout the process of reopening, and showed consideration for the unique circumstances their workers will face. The ban was lifted on these specific circumstances because of this preparation. The safety of Washington workers will continue to be the top priority when making decisions about steps forward.
As a small business owner and legislator, I know that this crisis is hurting our community. My experiences in both of these roles have provided a unique opportunity to weigh the impacts to businesses with the need to keep our neighbors safe. I am honored to have been appointed as the chair of the special committee to support businesses and nonprofits during the transition into reopening. I will continue to use my background to advocate for the communities in the 5th District and all of Washington in this new role.
If you have questions about coronavirus, visit coronavirus.wa.gov for up-to-date information and resources. If you have experienced job loss or are struggling economically, know that you are not alone. You can head to Washington's Employment Security Department website for guides on how to apply for unemployment, and what to apply for depending on your unique circumstances.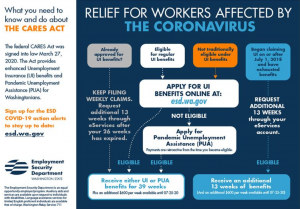 As always, if you have questions or concerns unfolding with this crisis, you can reach out to my office at Mark.Mullet@leg.wa.gov. I am here to serve you, and I value the input of our community above all else.
Best regards,