My first legislative session at the Senate was exciting, with nonstop work to pass common sense legislation that will improve the quality of life in Washington.
This is a long newsletter, but a lot happened this session and I want to provide you with as much insight as possible. I am always happy to meet with constituents, so please feel free to reach out to my office to schedule something, or simply send an email or call my district office.
In this issue I'll talk about bills I worked on that we successfully passed into law, and issues I look forward to working on next session. Keep an eye out for my next newsletter, where you'll learn about an you'll hear about the final day of the session, highlighting legislation on property tax relief, school levies, child welfare, and higher education.
First Session Success
Here a just a few of the successful efforts I led this session to pass quality legislation that puts people first.
Protecting our environment
This session I introduced Senate Bill 5145, which prohibits the use of hydraulic fracturing (fracking) to drill for oil or natural gas in Washington. I introduced this bill because I was concerned about water pollution and other harmful effects fracking can have. This bill, which was signed into law by Gov. Jay Inslee on May 8, protects our health and our environment.
Providing access to justice
Gov. Inslee recently signed into law Senate Bill 5017, which I sponsored at the request of the Uniform Law Commission. This technical but important legislation will make it easier for people outside Washington State to submit evidence and statements to courts in this state. It fits with my goals of providing everyone with access to justice and to putting people first.
Fighting for gender equity
I also introduced Senate Bill 5574, known as "Girls Who Code," after the nationwide movement to close the gender gap in tech professions. To increase the chances of the policy passing, an identical bill was introduced in the House, HB 1577. Based on strategic considerations, I realized the policy was more likely to become law if the House bill moved forward, so I put my bill down and supported the House bill. Through teamwork, we got that bill passed into law!
We must prove to our constituents that the legislature can function well, and I want to restore faith in our democracy. It is always more important to get a good policy passed, rather than focusing on who gets credit for the bill that achieves it.
This law will help close the gender gap in tech jobs by ensuring that our public schools identify and track how female-identified students are doing in computer science courses in order to identify inequities and successes, shedding light on what's working, what isn't working, and what changes are needed.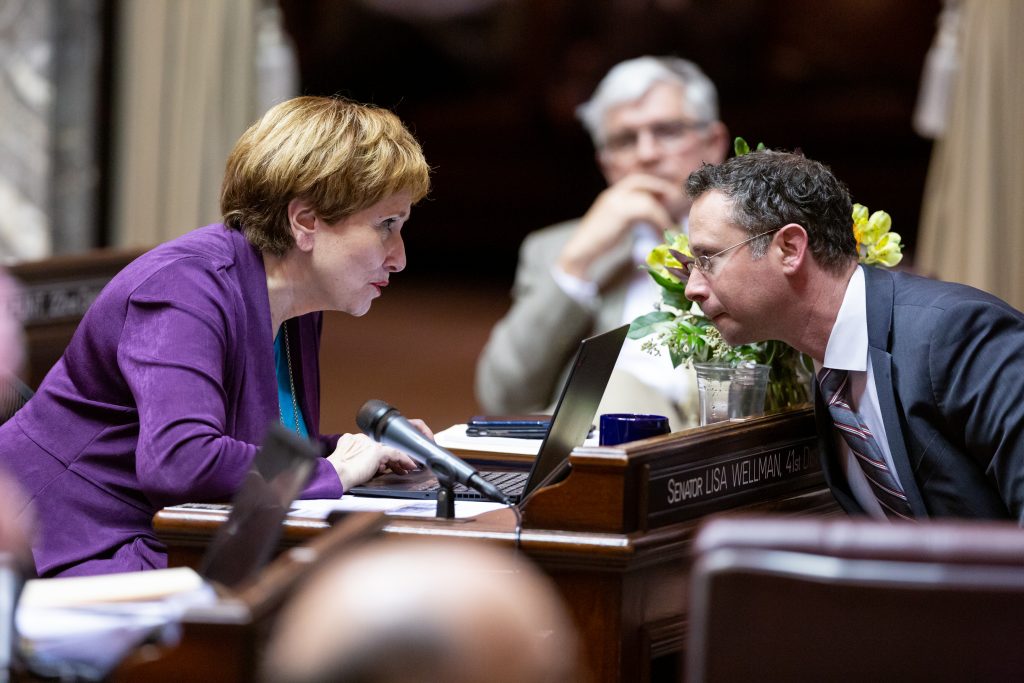 From a Father's Eyes
As I've referenced in past newsletters, the rise of hate crimes in Washington is deeply troubling and personal to me. As an American of Jewish background and father of a young child whom I love with all my heart, it pains me to know that soon I will have to explain some harsh realities to him. Recently, I took him to his first Purim festival at a local Synagogue. The service was for toddlers and consisted of singing and dancing and storytelling. As usual, the Synagogue had hired an armed guard to protect its members during the event.
It brings tears to my eyes to know that soon, my son will ask why there is an armed guard every time we gather as a community, and I will have to tell him we need it for protection from people who don't know us, but want to harm and kill us. Our children bring such light and joy into this oftentimes difficult world, and I dread the day I will see in my child's eyes the realization that someone would want to hurt him.
Many other communities in Washington also face similar threats, which is why I felt it was important to work on legislation to fight hate crimes. Two similar versions of this legislation were introduced this session. I introduced Senate Bill 5850, but again, based on strategic considerations about the best chance to pass this policy, we moved forward a similar bill, House Bill 1732, as the "vehicle" for the policy of both bills. After it passed the House, I added some important provisions to the policy when it was before the Senate.
HB 1732 changes the statute for bias-based crimes to call hate crimes by name, explicitly protects gender expression and identity, and increases fines for perpetrators. It also creates a work group to track hate incidents and explore restorative justice options. I am pleased to say that the governor signed the bill into law on May 7.
I fought to include restorative justice language because I was raised with a cultural tradition that seeks to truly heal the world. This is a concept that spoke to me as a public defender, and I see much value in an offender truly hearing a victim's experience and story, and truly understanding the impacts of their actions. This process can change peoples' hearts. While it's not right for all circumstances, this approach should be offered as an option that provides an avenue to building a more interconnected and kinder world.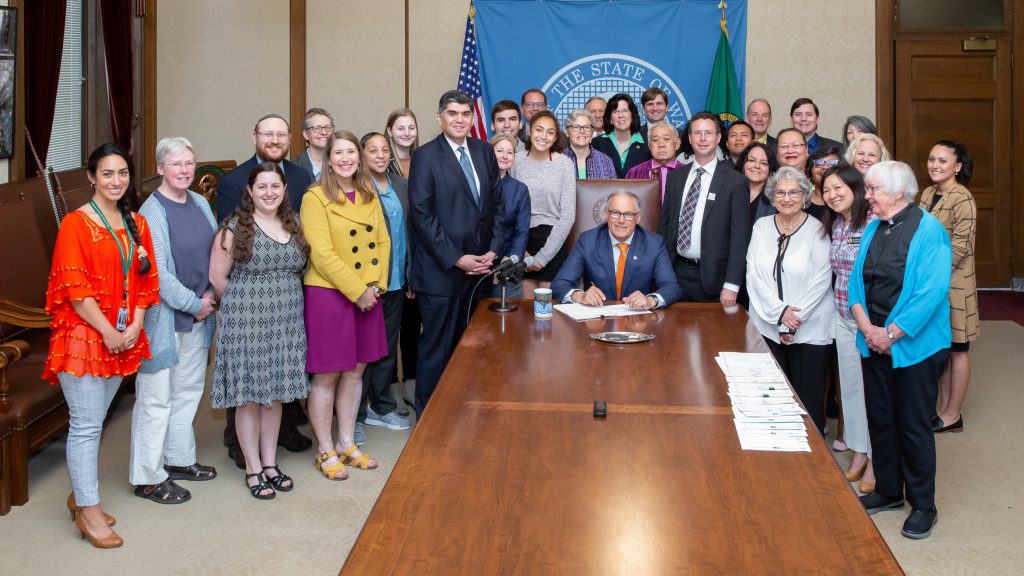 Issues to Address Next Session
It's tough for bills to make it all the way through the legislative process to the governor's desk. No legislator passes all their bills in one session. I plan to continue to work on issues from bills I sponsored this year that didn't pass, and to sponsor other new bills that address our needs. Just some of these include:
Orca and salmon preservation. Our southern resident orca population and the salmon they feed on are both key parts of Washington's cultural heritage, and a healthy environment. Both are under increased threats, and I will continue my efforts to preserve them in the next session through policies that protect and rebuild our wild salmon populations.
Public education & property taxes. The change we passed this year for school levies provides more local control for districts. While I am happy to report we dramatically expanded deferrals of property taxes for seniors, veterans and people with disabilities on fixed incomes this session going forward we need to work hard to make sure to strike the right balance between property taxes and funding for special education and advanced placement programs, teacher salaries, and all other valued aspects of public education. As a member of the Early Learning and K-12 Education Committee, I am committed to putting in the hard work needed to strike a fair balance.
Consolidating traffic fines and decriminalizing the inability to pay. I will also keep working on establishing a statewide payment plan system that would consolidate multiple traffic-based fines and fees. A workable payment plan system would help many avoid suspension of their driver's licenses. A valid license is often essential for basic needs like employment, education, and addressing medical needs. Those who do end up with a license suspension because they are unable to pay traffic fines can face criminal charges and even jail time if they drive to meet these needs. I will continue to draw on my experience as a public defender in the criminal justice system to make the system work effectively while also fixing its inequities.
Going forward, I will keep working on important legislation that will continue to put people first — not special interests. To help me represent your needs best, please let me know what you feel is important and how our Legislature can do more prioritize your concerns. My staff and I welcome your calls, emails, and visits!
Thank you,
GET MORE!
Follow me on Facebook to get the latest updates and news from the Senate, like my real time video updates from the Senate wings.