We passed the halfway mark this week on our 60-day legislative session in Olympia. The pace has been intense as we considered more than 1,800 bills on subjects ranging from homelessness and behavioral health to education and gun violence. We have been busy passing bills on the Senate floor in advance of an important deadline next week to move bills out of the Senate and over to the House for consideration. Here's a brief update on some of the issues on which I am focusing in 2020.
Opening doors to higher education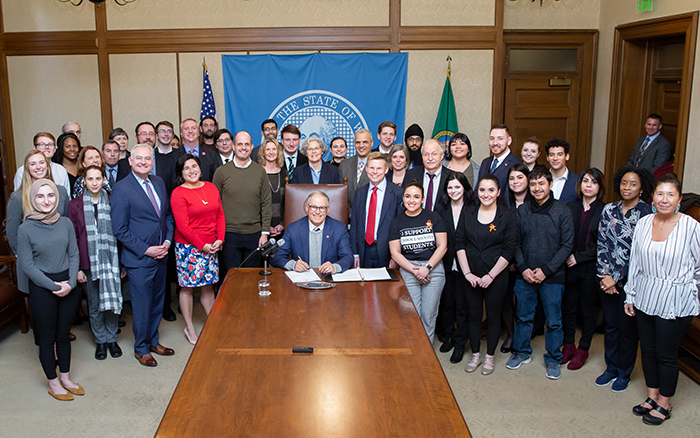 Last year the Legislature passed the Workforce Education Investment Act, E2SHB 2158, to make college tuition free for families making up to 55 percent of the state's median family income, or up to $50,400 for a family of four. The program – renamed the "Washington College Grant" – promises to open the doors to our excellent higher education institutions for every kid in our state. In addition, the bill included historic financial support for our community colleges and will strengthen everything from engineering programs at the University of Washington to the new medical school at Washington State University in Spokane.
Since we passed that legislation, a few things happened. First, the demand from students across the state hungry to learn and grow at our colleges and universities was higher than anticipated. Second, the new law created confusion for taxpayers and the state Department of Revenue. To make much-needed improvements to the legislation, I sponsored ESSB 6492, and Gov. Inslee signed it into law this week. Businesses will gain certainty about their tax obligations, more than 70,000 small businesses will be excused from the tax surcharge, and 11,000 others will pay a reduced rate. Our largest technology companies, meanwhile, will pay more. Most importantly, we are keeping our promise to Washington's students. Read more about the legislation in this Seattle Times story.
Town Hall on Saturday, Feb. 22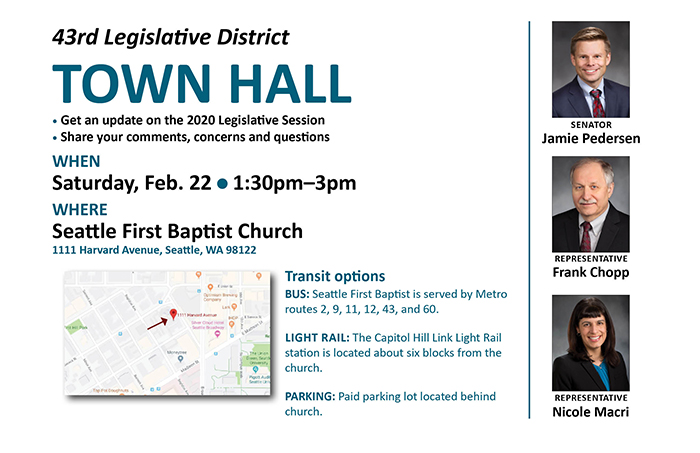 I hope that you will join Rep. Frank Chopp, Rep. Nicole Macri, and me for our town hall meeting on Saturday, February 22, at 1:30 p.m. at Seattle First Baptist Church at 1111 Harvard Ave. in Seattle.
Promoting gender diversity on corporate boards
There is no shortage of women qualified to serve on corporate boards, but a lack of diversity remains a problem due to complex and consistent barriers for women to join the boards of publicly-traded companies. That's why I introduced Senate Bill 6037, which will require publicly-traded Washington corporations to have 25% of their board members be women or to explain why and what efforts they are taking to increase diversity on their boards more generally.  There is strong evidence that increasing gender diversity on the board improves governance.  The bill has passed off the Senate floor and received a public hearing in the House Civil Rights & Judiciary Committee this morning.
Stay in touch
With a little more than four weeks remaining in this session, we will now be racing through consideration of supplemental operating, transportation and capital budgets, as well as several hundred bills passed by the House, while the House in turn considers the bills we passed out of the Senate. We are committed to working with the House to complete our work and adjourn on time for the third straight year.
I hope to see you on Saturday, Feb. 22, for the town hall. Please contact me with any questions about issues before the Legislature this year.