For decades, Washington state has struggled to meet the needs of people with mental health or substance use disorders, now commonly referred to as "behavioral health." We have relied on 19th-century models of care and have failed to invest in building community-based treatment facilities and training enough professionals to help our neighbors facing such challenges. The results – from people in crisis strapped to gurneys at Harborview Medical Center to chronically homeless people living under freeways – are a source of shame for us all.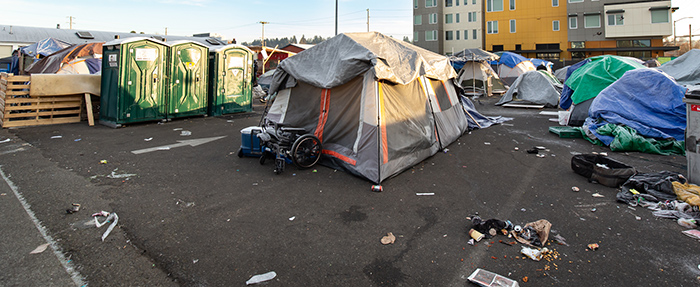 The 2019 Legislature worked on several bipartisan efforts to expand the capacity of behavioral health treatment facilities, improve funding and staffing levels at our state hospitals, and to push government at all levels to take a clinical approach rather than a criminal justice approach to addressing these challenges.
New UW teaching hospital
A significant behavioral health workforce shortage has created a two- to three-month wait for treatment in most areas of the state. Our rapidly growing population will only increase the demand for services. In response to this challenge, the Legislature passed HB 1593 to create a behavioral health innovation and integration campus within the University of Washington School of Medicine. The bill, championed by House Speaker Frank Chopp, will allow us not only to teach an integrated behavioral health curriculum to the next generation of behavioral health care providers, but also to expand the number of inpatient beds. This will include a 150-bed psychiatric unit to replace capacity at the outdated Western State Hospital.
Other behavioral health investments in the 2019 budget include:
$70 million toward meeting a court-mandated timeline to improve access to mental-health treatment for people waiting in jail for competency evaluations.
$58 million for patient safety enhancements, preservation and ward renovations at Eastern State Hospital and Western State Hospital.
$28.7 million for construction of two new forensic wards, providing 60 additional forensic beds at Western State Hospital.
$8 million for a new Treatment and Recovery Center at Western State Hospital.
$25 million for predesign, design, siting and site work of two state-constructed community civil bed facilities — one providing 16 state-operated civil beds and one providing 48 mixed-use beds.
Over the next several weeks, I'll continue to share updates on important issues the Legislature addressed this year. If you missed my previous updates on health care, gun safety, civil rights, climate change, or orca recovery, you can read those here.