Dear friends and neighbors,
In my last newsletter, I shared information about the operating, construction and transportation budgets that we passed this legislative session.
This week, I wanted to give you a final update you on the bills I sponsored that were signed into law.
• Property tax relief: Senate Bill 6641 cut property taxes by $391 million, giving homeowners a break on their 2019 tax bill to offset the large increase in this year's taxes passed in 2017 to fund K-12 education.
• Ban on credit freeze fees: Senate Bill 6018 eliminates credit bureaus' fees to freeze your credit reports to protect your personal info.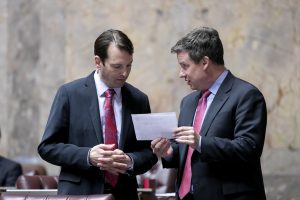 • Allow GET holders to share in investment returns: Senate Bill 6087 lets participants in Washington's Guaranteed Education Tuition (GET) program directly share in recent investment gains, giving them a larger return on investment in the program.
• College credit for high school students: Senate Bill 5917 requires colleges and universities to develop a policy to give college credit to high school students who pass International Baccalaureate or Cambridge International exams.
• Supporting paraeducators and training requirements: Senate Bill 6388.
• Improving how we regulate our financial service sector: Senate Bill 6024.
• Letting local housing authorities continue to invest in affordable housing: Senate Bill 6371.
• Creating an easier system for the State Treasurer to replace lost checks: Senate Bill 6311.
We also passed the House version of my bill to save Maple Valley money by making sure the state continues to pay to maintain S.R. 169 and S.R. 516 (House Bill 2948). Altogether, we accomplished a lot during this year's short, 60-day session. In addition to passing my nine bills above, the Legislature made it easier for people to register to vote, fully funded K-12 educators' salaries, made college more affordable and invested heavily in our mental health system.
I'm proud to have played a lead role in addressing some of the most complex, difficult and important public issues facing our state. I look forward to continuing to fight for our communities throughout this year and in the next legislative session, and I welcome your thoughts on how we can best do that.
All my best,