Friends,
I hope this message finds you and your family in good health.
The latest data from the Washington State Department of Health suggests we're at a plateau with the number of infections. While this is good news as the trend line of new cases is not drastically increasing, it's also not decreasing.
In other words, our social distancing efforts are slowing the spread, but we're not out of the woods yet. If we end restrictive measures too soon, another wave of cases could prolong the situation even further. What we are doing is working, and we need everyone to keep up the good work, be consistent, and stay home. It's saving lives.
New modeling from the University of Washington shows we *may* be able to begin to ease up on some restrictions next month. This is a big "may," however, as this is only one model. We'll need to see similar findings in several more models before we can move forward safely with a reopen plan.
When the governor does start to lift restrictions on the economy and social activities, we need to be prepared to adjust gradually. This won't be like switching on a light. It'll be more like a dial that can be carefully adjusted up or down based on what the science and data tell us.
Leaders in the Senate and House are working with the governor, trade organizations, nonprofits, and other community groups on the best ways to safely reopen the economy. Stay tuned for more information on those efforts.
In the meantime, here are additional resources and other helpful information to help you and your family during these difficult times.
---
Avoiding Scams
Unfortunately, we live in a world with bad actors who try to take advantage of other people, especially those who are more vulnerable. Scammers will be out there as federal stimulus checks start arriving in the mail.
The Federal Trade Commission (FTC) recommends five tips to avoid becoming a scamming victim:
Ignore offers for vaccinations and home test kits.
Hang up on robocalls.
Watch out for phishing emails and text messages.
Research before you donate.
Stay in the know by visiting ftc.gov/coronavirus for the latest information on scams.
More information on how to avoid scams can be found on the FTC website here. Complaints about suspected scams can be filed with the FTC here and the state Attorney General here.
---
Price Gouging
Price gouging during a public health crisis is illegal. If you suspect a case of price gouging, you can file a complaint with the Washington State Attorney General's office. They have setup an easy, three-step "See It, Snap It, Send It" process to file complaints.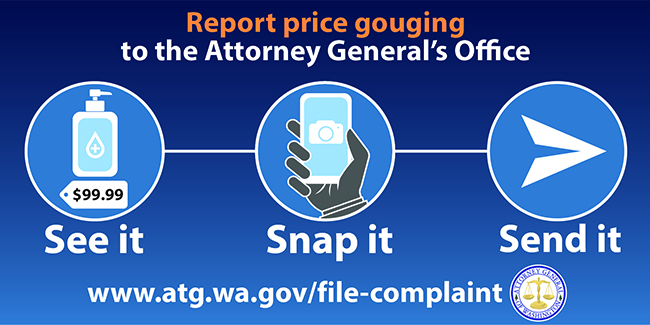 ---
Evictions
Last month, Governor Inslee issued a moratorium on evictions for nonpayment of rent. He recently renewed and expanded this moratorium, which will be in effect until June 4. So far, the Washington Attorney General's office has received more than 650 complaints of landlords possibly violating the governor's orders.
Washingtonians concerned about violations of the proclamation can file a complaint here.
---
Stimulus checks
Stimulus checks from the federal CARES Act started going out to people last week. However, certain taxpayers may need to provide additional information to the IRS before a payment can be sent.
Those who didn't file taxes in 2018 or 2019, or who earn less than $12,000 annually, will need to submit additional information and request their stimulus check from the IRS.
If this situation applies to you or someone you know, you can visit this webpage on the IRS website for more information on how to apply for your stimulus check.
---
Unemployment benefits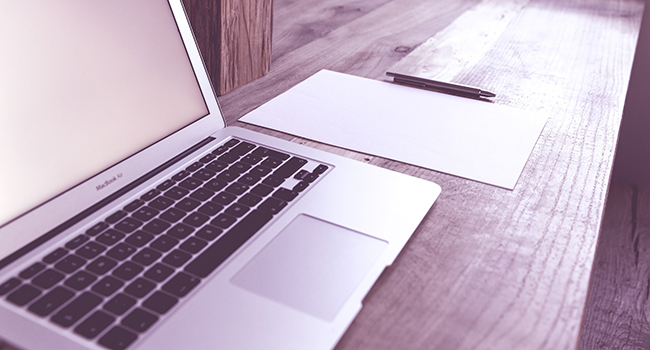 Over the weekend, the Washington State Employment Security Department updated their systems to process the expanded unemployment benefits now in place from the federal CARES Act. If your job has been impacted by COVID-19, you may be eligible for unemployment benefits.
Make sure you have all your information readily available before you begin the application process. This will speed up the application process and delivery of your benefits. Keep in mind, even if there are some initial delays in getting your claim approved, your benefit will be applied retroactively to your qualification date. You will receive your full benefits if you qualify.
ESD is processing an extremely high volume of claims right now, so the application process may be slower than normal. You may experience fewer delays by submitting your application during the evening hours or on a weekend.
You can sign up for ESD's action alerts to receive the most recent information possible about these benefits, view their Frequently Asked Questions for Workers and for Businesses and use their checklist before applying for benefits.
---
Reducing Stigma
Misinformation can spread quickly in the internet age. Misinformation circulating during a pandemic can make the situation worse and possibly lead to more deaths.
Anyone can get COVID-19, and anyone can spread it. Viruses don't discriminate. Neither should we.
Spread the Facts:
Rely on, and share, trusted sources of information.
Speak up if you hear, see, or read stigmatizing or harassing comments or misinformation.
Show compassion and support for individuals and communities more closely impacted.
Avoid stigmatizing people who are in quarantine. They are making the right choice for their communities.
Do not make assumptions about someone's health status based on their ethnicity, race or national origin.
Spread the facts – promote positive messages about ALL our communities.
Report discrimination.
Let's all do our part to reduce stigma and defeat the coronavirus.
You can report suspected cases of discrimination through the Washington State Human Rights Commission or the King County Office of Civil Rights.
---
Ways you can help
Personal Protective Equipment (PPE): Even with our great progress slowing the spread of the virus, Washington state is still in need of PPE to support personnel on the front lines of the COVID-19 response. If you have the ability to purchase, donate, or manufacture PPE, please visit this website.
Volunteer: The Washington State Department of Health is seeking volunteers to help with the health care response to the virus. You can learn more about that here. Additional volunteer opportunities are available through the Federal Emergency Management Agency (FEMA).
Donate blood: The COVID-19 outbreak has put a strain on regular blood donation channels as traditional blood drive activities are suspended during the Stay Home, Stay Healthy order. Donating blood is still allowed as strict sanitary measures are applied to keep people safe. If you are able, please consider donating blood. More information on donating blood can be found on King County's website here.
Donate food: The economic slowdown has increased demand on Washington's food banks. A recent estimate stated 1.6 million Washingtonians will rely on food bank services this week – twice the normal number. Efforts are underway by Gov. Inslee and community organizations to ensure there's an adequate supply in our food banks to meet demand. You can read more about Gov. Inslee's recent efforts to boost food bank supplies here.
---
This outbreak is rapidly evolving. I'll send additional updates as I learn more. As always, contact my office anytime if you need help connecting with community assistance services.
Wash your hands, stay at least six feet away from other people, and please stay home.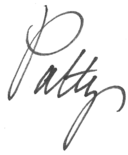 Patty Kuderer
State Senator
48th Legislative District