Dear Neighbors,
Our schools perform many crucial functions in the community, from their core mission of education to providing nutritious meals for students who otherwise wouldn't have access to them. In this time of crisis, our schools are stepping up to make sure that school closures don't mean that kids have to go hungry.
Pandemic Food Benefits
Because of the impact of the COVID pandemic, this summer, our state will help families with school children buy groceries. The benefit, Pandemic EBT (P-EBT) is available to families with children who are eligible for schools' free or reduced-price meal programs. P-EBT benefits do not replace any child nutrition programs already offered, and families are encouraged to continue participating in grab-n-go meals or emergency food programs at their local schools and community locations.
Most families who already receive Supplemental Nutrition Assistance Program benefits, also known as SNAP or Basic Food, and whose children already receive free or reduced-price meals do not need to apply. The P-EBT benefits – a one-time amount up to $399 per eligible child in each household – will be automatically deposited onto existing EBT cards in early July.
Other families, including those whose children attend a school where meals are free for all students, will need to apply for free or reduced-price meals with their school district before June 30. Once approved by their school district, these families can apply for P-EBT online at Washingtonconnection.org before August 31 or the start of the 2020-2021 school year—whichever is later. Families who need to apply or who have other questions about P-EBT benefits can call the DSHS Customer Service Contact Center at 877-501-2233 on weekdays between 8 a.m. and 5 p.m.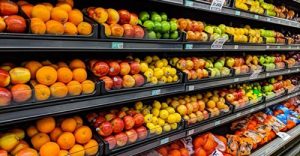 Guidelines for Reopening Schools
The Superintendent of Public Schools has released a set of guidelines for safely reopening schools in the fall, including measures such as instituting health screenings, requiring cloth face masks for staff and students, increasing hygiene and social distancing precautions in school buildings, and cancelling classes and activities that aren't conducive to distancing. You can read more about the guidelines here.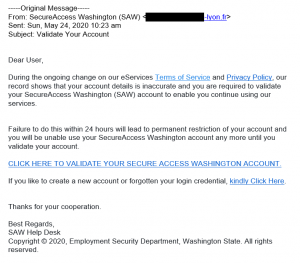 Beware of Email Fraud Scam
Recently, Washington State employees were the target of a phishing campaign. Similar tricks may be used to target others.
The fraudsters are sending fake Secure Access Washington (SAW) emails in an attempt to trick individuals into providing their account credentials.
In the example above, users are being told they have 24 hours to correct inaccurate information or their SAW account will be restricted. SAW administrators will never send users an email asking for validation of account details. Do not click on the links in the email or reply to it.
Stay in Touch
If you'd like to follow what I'm working on, you can like my official legislative Facebook page here.
Please don't hesitate to stay in touch. Stay safe and take care.
Always,
Senator Karen Keiser
Chair, Senate Labor & Commerce Committee
Senate President Pro Tempore