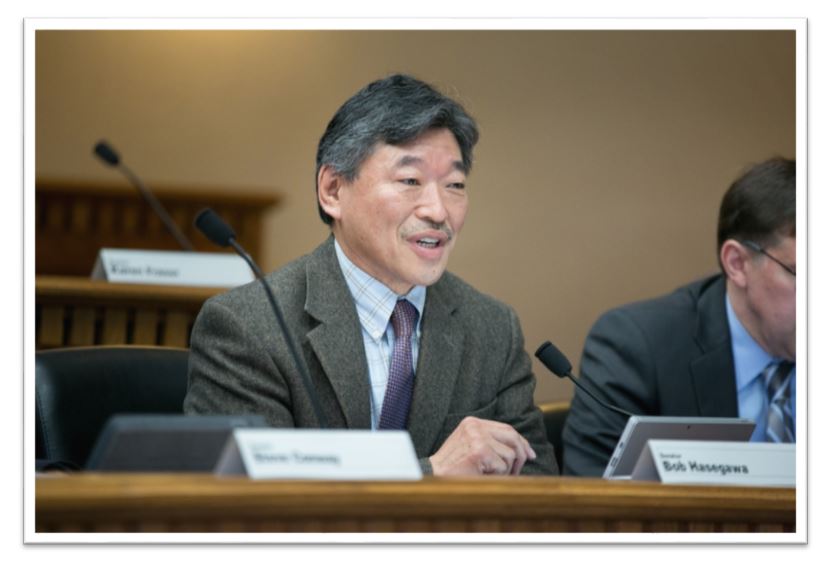 Dear Neighbors,
I have been getting a lot of good feedback from my recent e-news that includes communications from constituents. As we move into the second 30-day special session, I thought I would continue using emails I've received from our 11th district neighbors to frame the conversation about what has happened over the regular session, and what we can expect in the days ahead.
A Roof Over Every Head: Funding and the Capital Budget
From a Constituent who works with Habitat for Humanity in Seattle-King County:
I am writing to request that you support, in the Capital Budget, the Housing Trust Fund at $100 million including affordable homeownership programs.
Over 43% of King County households are rent-burdened. 850+ families with children are homeless awaiting emergency housing placements. Affordable homeownership programs including Habitat for Humanity Seattle-King County form a critical part of the affordable housing continuum, and rely on capital budget investments. Habitat has served thousands of families, with significant private leverage. On every dollar invested in Habitat homes through the state capital budget Habitat has leveraged $5 in private capital. The Senate's capital budget proposal includes an investment in 150 units of affordable homeownership for low income households.
The capital budget is one of the three state budgets written every two years, along with the general operating budget and the transportation budget. Although it often gets the least amount of attention, it is critical to a healthy state infrastructure because it provides funds for school and university buildings, affordable housing grants and clean water projects among many other things.
As we know, Seattle and King County are increasingly difficult to afford living in as rents and property taxes rise. For almost 30 years, the Housing Trust Fund has provided competitive grants to affordable housing projects throughout our area and the state. These building projects support a wide range of Washingtonians, including low- to middle-income families, seniors, the homeless and the developmentally disabled. I agree with the constituent that this program should be funded at $100 million, although I believe it will be difficult to get there in this budget cycle. The House Democrats nearly got there in their budget proposal, funding it at $80 million. Senate Republicans only funded it at $65 million. The high water mark was $200 million in 2008-10, although we've had severe cuts since then, forcing more people onto the streets – including over 30,000 school-aged children.
Income inequality is one of the greatest challenges we face today. It is a generational problem that will leave a legacy of increasing inequality if we don't prioritize finding solutions now. Affordable housing is a critical part of keeping pathways to the middle class open, and as we finalize the capital budget I will continue to fight for funding to programs like the Housing Trust Fund that help people keep a roof over their head.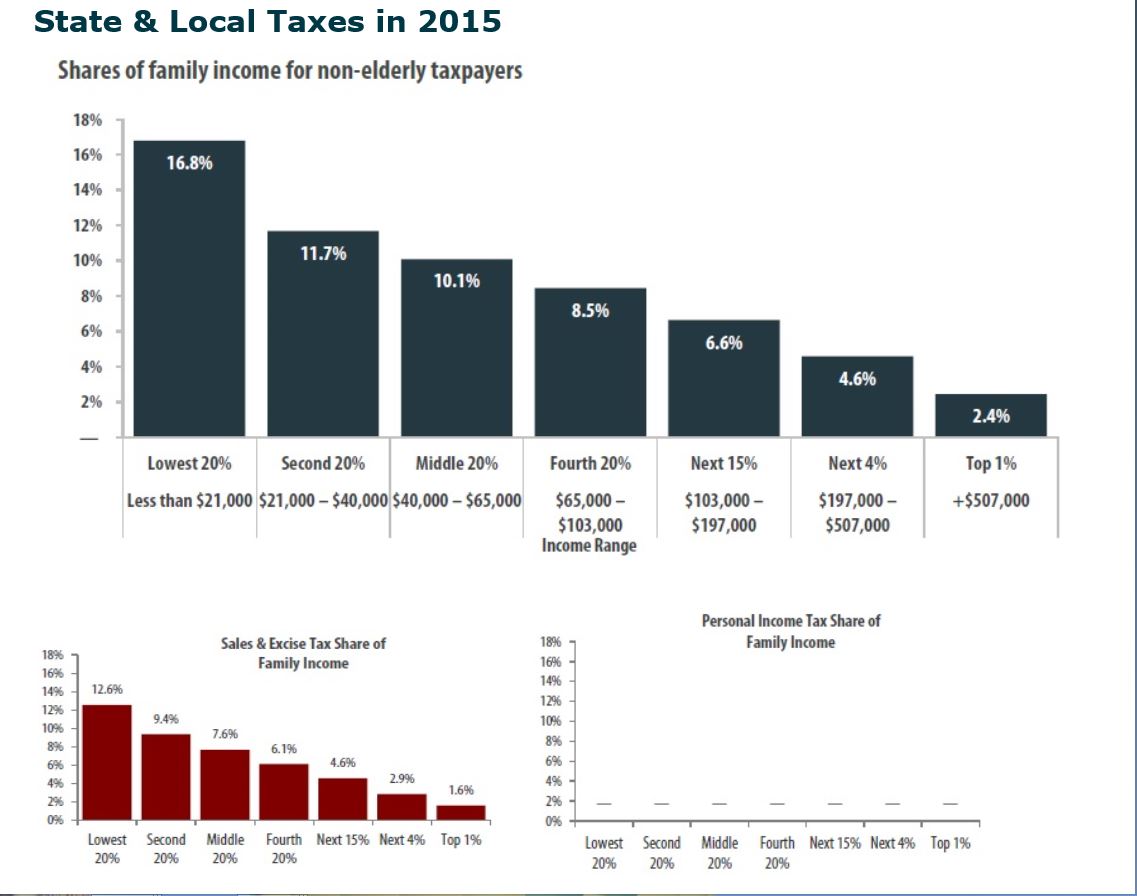 Education Funding Solutions
A Renton constituent wrote:
KOMO-TV last night reported that the Legislature was considering increasing property tax for [education funding]. Please do NOT!! My taxes went up nearly $600 this year. I've lived in my home since 1977. Am single with no children and am a senior citizen on a fixed income. Have been happy to pay for education through the years but, can't afford another increase. Please consider what this increase would do to senior citizens like me.
Lawmakers went into the 2015 legislative session saying education funding was our top priority for this year. The state is in contempt of court for not having come up with a plan to fully fund basic education according to our obligations under the state Supreme Court McCleary decision, and we must come up with that plan before we adjourn or face sanctions.
The House Democrats and Senate Republicans both proposed around $1.3 billion for basics like all-day kindergarten, class size reduction in grades K-3 and funds for class room materials and supplies as well as operating costs like heat and electricity. With decreased state funding for education over many years, school districts have been forced to make up the funding for these basic needs through local levy dollars, which come from property taxes, even though they are not supposed to.
This has created a widening gap between the richer districts that can pass levies, and middle and low income districts that have a harder time with that. Teacher salaries too have been supplemented with levy dollars, making districts with the means to add more to a base salary desirable, while smaller or poorer districts struggle to attract and retain educators.
The constituent letter above speaks to many calls we've received regarding revenue for education. We know we need to fund schools, we know we need revenue – so where will that revenue come from? I think most Washingtonians are already paying their fair share in taxes, it is time we level the playing field and ensure all kids get the opportunity for a great education without further burdening working families and small business. Below is a graphic that shows the two different levy equalization proposals: the Senate Republican property tax increase proposal the constituent mentions vs. the Senate Democrats' capital gains proposal.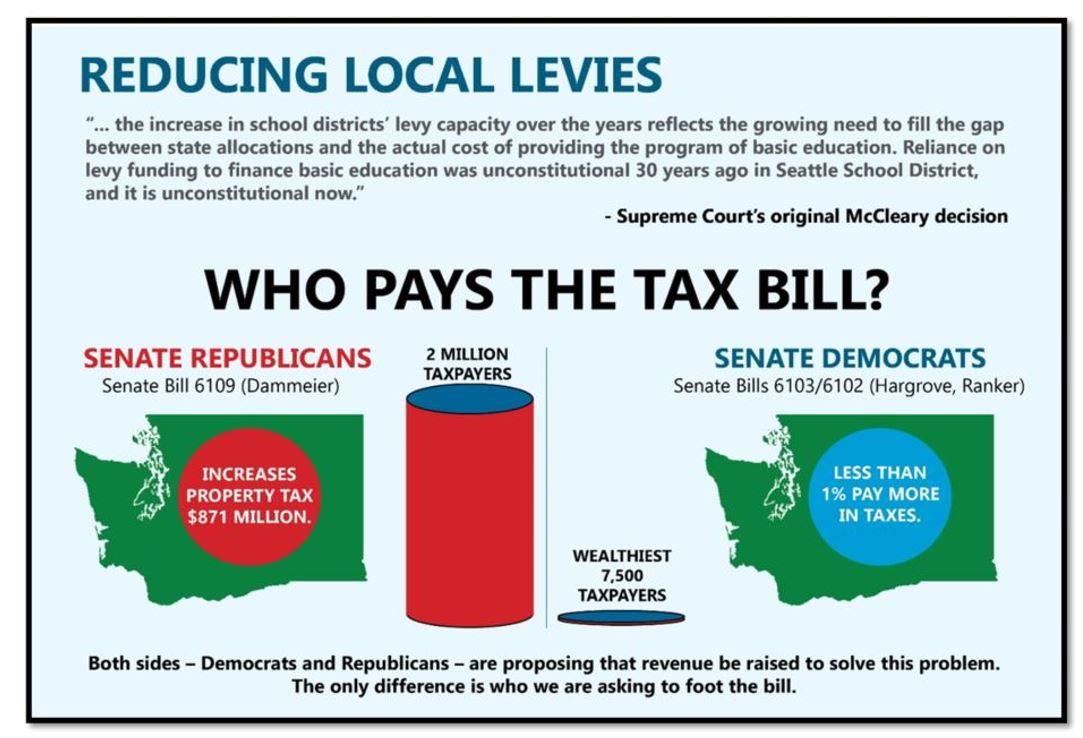 Educator Walk-Outs, and the Need to Take a Stand
There has been a lot of coverage of the recent school walk-outs, where educators and students have stood up to voice their opposition to the Senate Republican budget. Although controversial, I think actions like these help highlight the seriousness of situations that are often overlooked.
The walk-outs were spun by some as purely about teacher pay raises, but in reality they were a call to legislators to do our duty and fully fund education. That does include paying the teacher cost of living adjustments (or COLAs) that were approved by voters and haven't been funded in seven years, and taking a look at salaries to bring them up to a fair market value. But that is only one corner of the bigger picture. Fully funding education means reducing class sizes so kids and teachers can do their best work. Fully funding education means not relying so heavily on local property tax levies, and it means ensuring all kids, no matter their zip code, get an equal shot at success.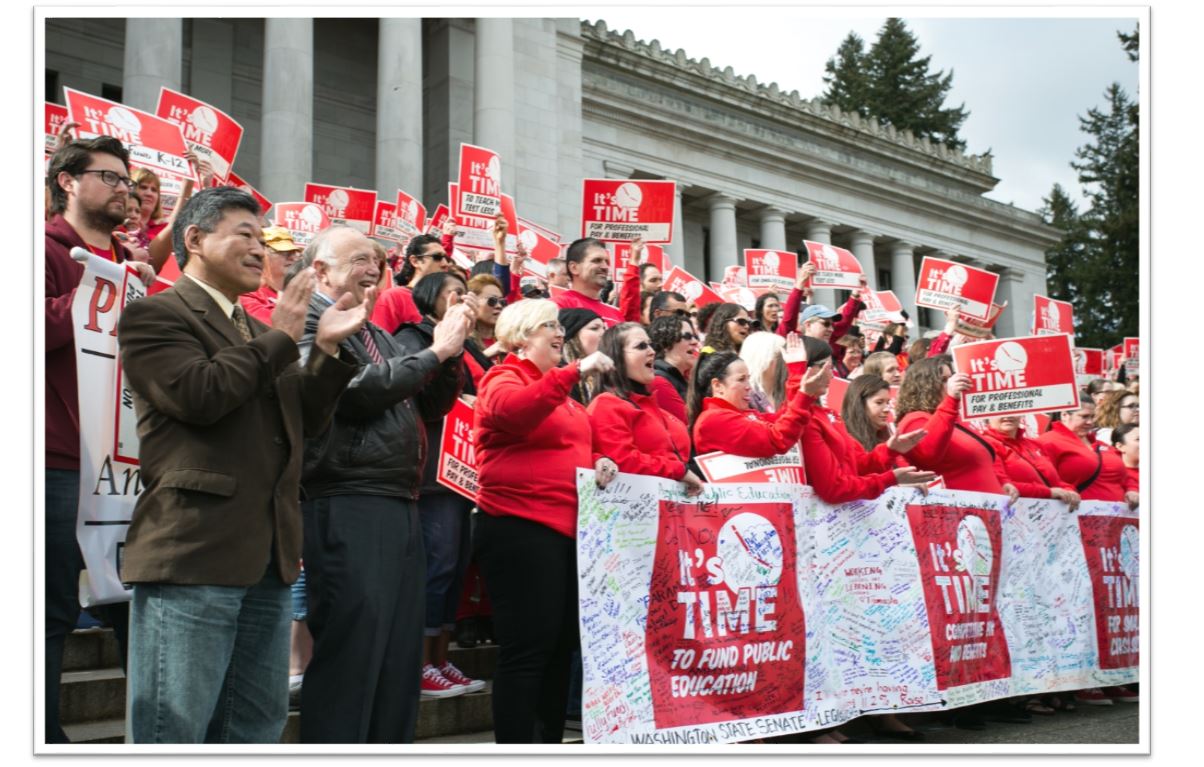 These are the reasons professionals go into teaching in the first place – to make sure we invest the best we can in our students. But that means we need to have the backs of those whose responsibility this falls on – school employees.
On the day of the biggest walk-outs yet, where thousands marched through the streets of Seattle to demand full education funding, the Republican led Senate Commerce & Labor committee held a public hearing on a bill that sought to punish teachers for taking this bold stand (SB 6116). Not only did this bill have a number of legal and logistical problems that wouldn't even make it possible to implement as written, it has serious moral implications too. In the midst of an over-time special session, where we are tasked with writing the budget, Senate Republicans chose to use their time holding a hearing on a bill that had no chance of going anywhere.
Because this bill was clearly a messaging tool aimed at attacking teachers rather than offering real solutions, myself and my fellow Democrats on the committee chose not to participate. I have never walked out of a hearing before, but in budget writing crunch time, we felt we had much better ways to use our time than state-funded political grandstanding.
The committee was well covered by the press, and I received a number of calls and emails, mostly in strong support of this action.
One constituent wrote:
I am so proud to live in your district, I was cheering when I saw [KING 5's] story showing you leaving the discussion on punishing teachers.  You are so right, it takes the focus off of the goal.  I have no children in school, but my interest in education comes from the dismal antiquated system and the teachers who put their heart into creating skilled savvy members of society in spite of the infrastructure.  I am tired of a few vocal trolls being able to take away funds from education when our future relies on educating our children to save the planet.  Many thanks to you sir, for being the voice of reason in the legislature!
My office got many calls as well, including one from a Republican who was equally frustrated that committee time was used this way in budget time.
I get all kinds of communications, comments and suggestions through my office every day. Whether they are positive or negative, I listen to each one and take them seriously – after all, it is YOU who I am here to represent. So I hope you'll keep up the calls and emails, and I will continue to update you as this second special session continues.
As always, thank you for subscribing to my e-newsletter. I look forward to hearing from you soon.
Regards,
Senator Bob Hasegawa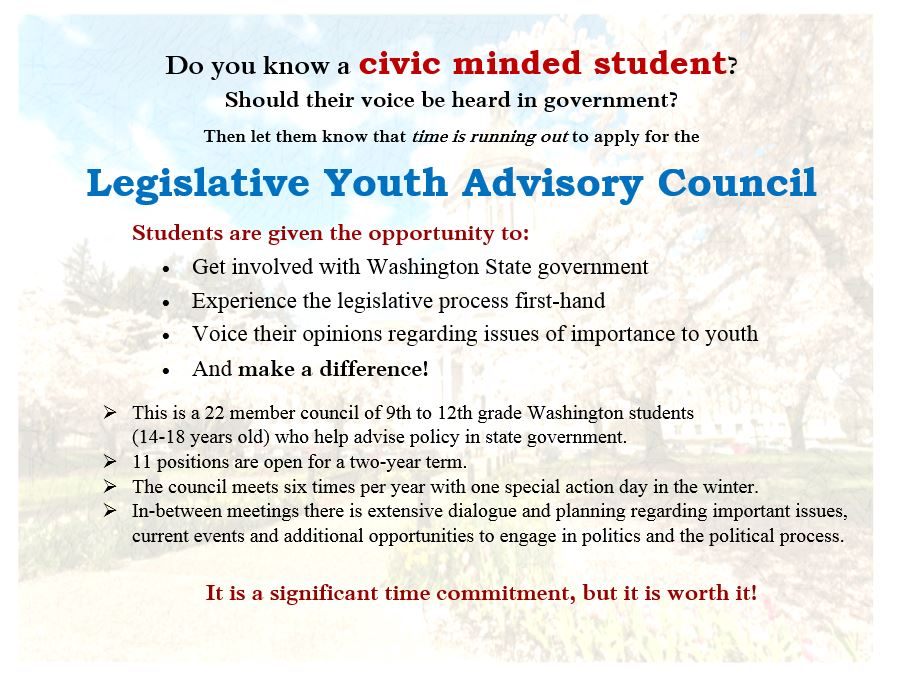 You can apply here, or learn more by clicking here.
Applications must be submitted online by June 21, 2015.