Senator David Frockt
46th Legislative District
D-Seattle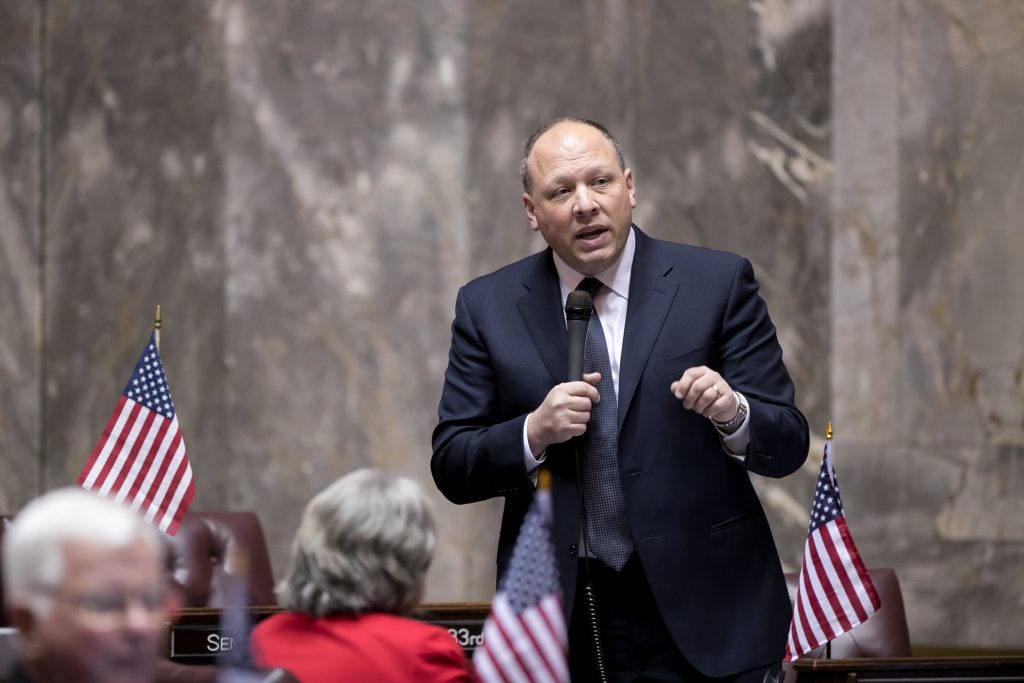 In the decade he has served in the Washington State Legislature, David Frockt has been a champion for improved health care, accessible higher education, a clean environment, and firearm responsibility. David currently serves as vice chair of the Ways & Means Committee and the Health & Long Term Care Committee.
Voters first elected David to serve the 46th Legislative District, comprising North Seattle and the suburbs Lake Forest Park and Kenmore, in 2010, and have re-elected him three times.
Early in his Senate career, David served in his party's leadership in the Senate, including as Deputy Leader. Long considered an effective legislator even when his party was in the minority, David has served as the Senate's lead capital budget writer since Democrats regained the majority during the 2018 Legislative Session. He has championed strong investments in projects to alleviate homelessness, increase access to behavioral health services, and build strong communities throughout Washington State. He also serves as vice chair of the Senate Ways & Means Committee, playing a key part in the state's funding decisions.
David has prioritized investments in Washington's colleges, health care facilities, and Seattle Schools. At the University of Washington, these include a renovation of Parrington Hall for the Evans School of Public Policy and Governance, the new Population Health Center, and the Magnuson Health Science Building. He carried an important state investment for the Meridian Center for Health in North Seattle which provides primary, dental and behavioral health services to the low-income population.
He has worked with the City of Seattle and King County to secure investments for community centers in Lake City and Magnusson Park. He has been primarily responsible for tens of millions of dollars in special appropriations to Seattle Public Schools for needed renovations and remodels to Seattle schools. And he has secured essential capital investments for Lake Forest Park and Kenmore for several environmental-stewardship and community-access projects for these suburban parts of his district that border Lake Washington.
His contributions to higher education extend far beyond capital projects. In 2018, he successfully sponsored the Dream Act 2.0, expanding access to higher education for immigrants brought to the US as children. He passed legislation creating a new 529 college savings program now known as Washington's DreamAhead College Investment Plan. He worked to lower college tuition, strengthen the College Bound scholarship for lower-income Washingtonians, and secure research funding for the University of Washington.
David has been an active member of the Senate's Health Care Committee for many years. In 2019, David successfully sponsored a bill creating Cascade Care, the first state-based "public option" for health insurance available in the United States. Cascade Care was designed to lend predictability for consumers in the individual insurance market by lowering premiums, establishing standard, easy-to-navigate benefit packages, and lowering out-of-pocket cost sharing — including deductibles and copays. In addition, he has passed legislation promoting early developmental screenings for young children.
Also in 2019, David successfully sponsored a bill reforming how oil companies are taxed in Washington state under the Model Toxics Control Act. The tax rates set in the act had not been changed since its enactment in 1988. Revenue generated through this tax is used to fund environmental cleanups throughout the state. David was selected as legislator of the year in 2019 by the Washington Conservation Voters in recognition of this important bill.
David has long been an advocate for gun responsibility and for measures designed to keep guns out of the hands of people at high risk of endangering themselves or others. In 2015, he sponsored a bill to allow courts to use Extreme Risk Protection Orders (ERPOs) to prohibit people at high risk of hurting themselves or others having access to firearms. Although the bill didn't pass the Legislature, Washington voters enacted the policy later that year through the initiative process. In 2019, David passed a bill that allowed ERPOs to be used to protect minors as well as adults.
David also played a crucial role in Washington's efforts to rewrite its outdated use of deadly force statute to ensure that the interests of justice could be served. His legislation also sought to expand de-escalation training for officers so that deadly force encounters with the public could be avoided and to enable independent investigations when such incidents did occur. He served on the state's Task Force on the Use of Deadly Force, and after Initiative 940 updated the state's deadly force statue, he sponsored legislation that improved the initiative with consensus revisions that made it legally workable.
David graduated from the University of Pennsylvania in 1991 with a bachelor's degree in political science and earned his Juris Doctorate degree from the University of California, Los Angeles in 1998. David and his wife Rebecca live in North Seattle and are the proud parents of teenage twins.