Dear Neighbors,
The Legislature is taking this health crisis extremely seriously. We have now appropriated $200 million to fund our state's response, including monitoring, testing and support for local health departments.
We have also acted to
ensure that people receiving unemployment insurance can continue to do so even if they can't meet the work search requirement due to quarantine
support businesses that rehire employees who had to go on unemployment insurance because of the coronavirus emergency
reimburse nursing homes that aid in the coronavirus response
allow school employees to maintain health insurance eligibility for the rest of the school year even if they come up short of required work hours because of the coronavirus state of emergency
The federal government has passed an $8.3 billion coronavirus response plan. Of that, $11.2 million came immediately came to Washington state for public health responses. Our congressional leaders are hard at work negotiating a supplemental bill that is intended to include additional Medicaid funding, housing support, and SNAP benefits.
To minimize public health risk, Governor Inslee has prohibited most large events of more than 250 people in King, Pierce and Snohomish counties, and Public Health — Seattle & King County has issued health and safety guidelines that must be followed by the organizers of smaller public gatherings.
State agencies have announced measures to help people and businesses whose lives are disrupted. The governor's office has assembled a central list of resources here. Below are some of the most important changes that can help you.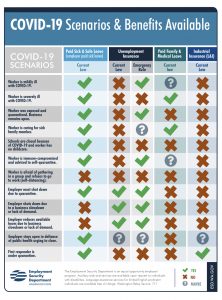 Worker and employer assistance
If an employer temporarily shuts down operations because of coronavirus, workers may be eligible for unemployment benefits and the employer may receive relief of benefit costs.
If workers are exposed to coronavirus and asked to isolate or quarantine by a doctor or health official, they may receive unemployment benefits while they are temporarily away from work. A bill passed recently by the Legislature waives the requirement that people in this situation must be actively searching for work.
In response to the spread of coronavirus, the Washington Health Benefit Exchange has opened a special enrollment period for health insurance through April 8. You can call 1-855-923-4633 between 7:30 a.m. and 5:30 p.m. Monday through Friday.
The Insurance Commissioner has required all insurance plans to cover coronavirus tests with no cost-sharing and no prior authorization requirement for people who meet the CDC criteria for testing.
He has also required insurance plans to allow enrollees to refill their prescriptions early one time in order to maintain an adequate supply.
The governor has ordered all King County public and private schools to close through April 26th. You can find further information from the Washington Superintendent of Public Instruction here.
Protect your health and your loved ones
Remember, if someone you know has a fever and non-acute respiratory distress, they should call their doctor. Symptoms to watch for are fever, cough, and shortness of breath.
The best preparations are to prevent infection with simple yet effective actions:
Wash your hands often with soap and water for 20 seconds (singing happy birthday twice).
Cover coughs and sneezes with your elbow, sleeve or tissue (not your hands).
Avoid touching your eyes, nose, and mouth.
Bump elbows with friends rather than giving hugs or handshakes.
Clean and disinfect frequently touched objects and surfaces.
Use hand sanitizers when unable to wash your hands.
If you have symptoms and do not have a doctor to call, you can call the King County coronavirus call center at 206-477-3977 or the Washington State Department of Health call center at 1-800-525-0127.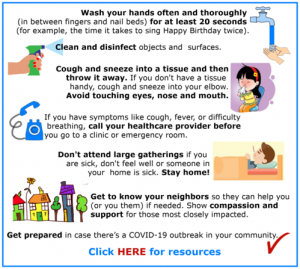 Sincerely yours,