Dear neighbors,
We wrapped up the 2020 legislative session last week, and updates about legislation will be coming soon.  For now, I'd like to take a moment to assure you that the Legislature and our state agencies are taking our current health crisis very seriously. This is an urgent message.  The coronavirus pandemic has hit Washington.  You and I and every person we come close to are partners in a great social contract.  We are responsible for each other.  If I fail you, or you fail me, in keeping our promise in that social contract, we will fail to contain this virus. It is not a time for business as usual. Every time we step out of our homes, each of us must imagine that we are the virus.  If we don't self-isolate when we have any symptoms, fail to cover our cough, or forget to maintain a gap of 6 feet between us and every other person, we can infect that person.  A woman who is pregnant, a clerk in a grocery store, the driver of the bus you rode, your parent or grandparent, your friend at church, every person. It is good news that many infected people are being released from hospitals to continue healing at home.  But the virus is spreading quickly, and our health care system is not scaled to meet the predicted level of need.  Rationing of services is expected to happen. We need to make a serious commitment to that social contract.  Today and every day for the foreseeable future. I recognize that many people living in the 27th District don't have a choice about whether they isolate themselves during this health crisis.  To all the first responders, health care workers, support staff, persons who work at grocery stores, pharmacies, food providers, long term care providers, and all others who are necessary to maintaining core services, I thank you and hope you, too, are remaining as safe as possible.
The Legislature's Actions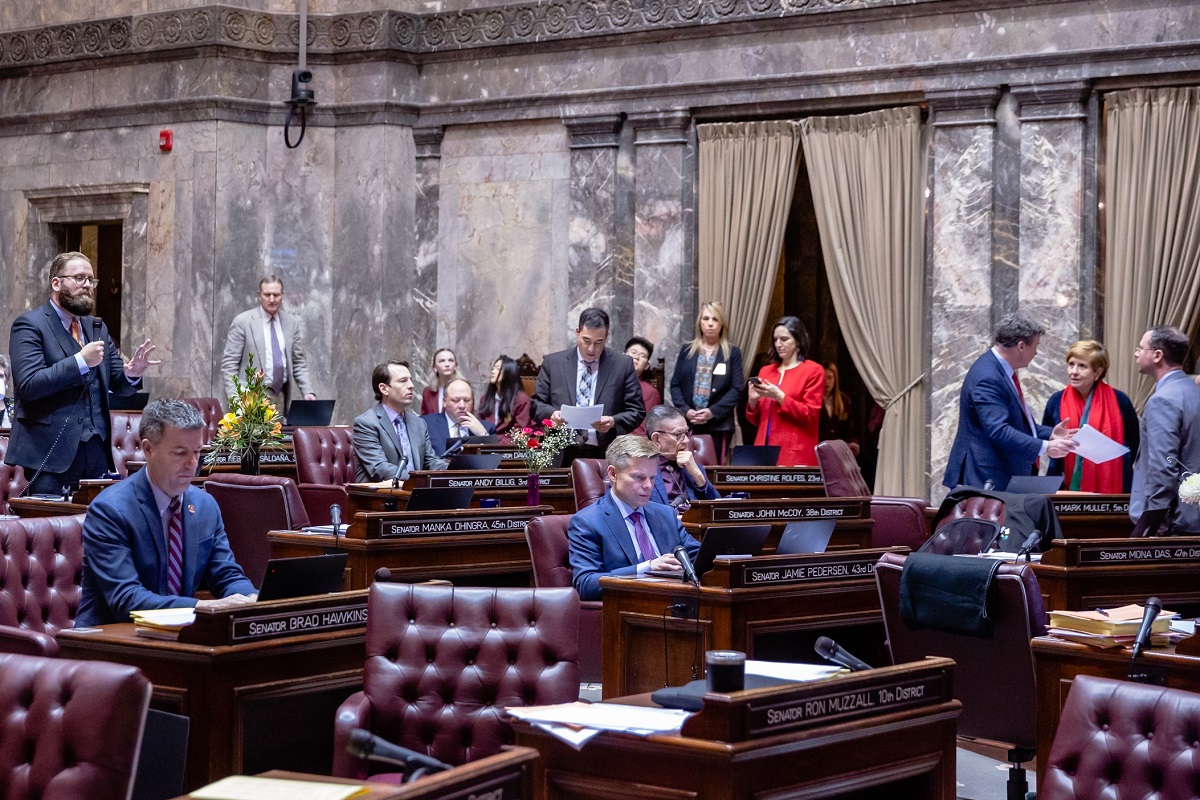 We have now appropriated $200 million to fund our state's response, including monitoring, testing and support for local health departments. We have also acted to:
ensure that people receiving unemployment insurance benefits will be able to receive them even if they can't meet the work search requirement due to quarantine.
mitigate costs to businesses due to increased numbers of workers receiving unemployment insurance
reimburse nursing homes that aid in the coronavirus response
keep school employees eligible for health insurance for the rest of the school year even if they don't meet the required number of work hours because of the coronavirus state of emergency.
The Governor's Actions
To minimize public health risks, in recent days Governor Inslee has:
For the latest updates on the Governor's actions, click here.  
Resources for Information and Assistance
Are you looking for the latest updates or answers about how to cope with the disruption of daily life and the new financial strain caused by missed work? Do you want to know what state agencies are doing to help? Visit https://coronavirus.wa.gov/, where you can find all the information in one place. Other resources in our area for information about coronavirus include:
Special Enrollment Period for Washington Health Benefit Exchange
In response to the potential growth of coronavirus cases, the Washington Health Benefit Exchange is holding a limited-time special enrollment period for qualified individuals who are currently without insurance. This special enrollment period runs through April 8, 2020, and will allow uninsured individuals 30 days to enroll in health insurance coverage through Washington Healthplanfinder. You can call 1-855-923-4633 between 7:30 a.m. and 5:30 p.m. Monday through Friday. Thank you for your cooperation in this difficult time, when social distancing is required to slow the spread of the virus to ensure the safety of all members of our communities. Don't forget to help your friends, family and neighbors who may be struggling to make ends meet right now. My office will continue to welcome your thoughts and concerns, so please let us know what issues are important to you and your community at this time. Sincerely,
Get more Follow my Facebook page for the latest updates on what I'm up to during the interim. Check it out now! Stay in touch What are the issues that are important to you and your community? Your participation helps improve our district for all! Contact my office to make sure your voice is heard! Click here for contact information.