Session is under way!
Last Monday marked the beginning of the 2020 legislative session, and we got right down to business for this short, 60-day session. These short sessions occur in even-numbered years, and can often feel like a sprint to the finish line with the entire legislative process condensed into just eight weeks.
I-976's effects on transportation funding
Unfortunately, in this short session we're faced with increased budget challenges due to Initiative 976, known as the "$30 car tabs" initiative. Prior to its passage, the state's transportation funding stream was already unable to keep up with the demand for maintenance, preservation, safety and projects across the state. The passage of I-976 devastated transportation funding across the state.
Although the measure is being contested in the courts, we must prepare for the worst by writing an all-cuts transportation budget, because it's only responsible for us to prepare for the worst. Whatever the outcome, there will be significant delays with projects, and the situation will get worse before it gets better. Nevertheless, we are committed to keeping essential projects for safety and preservation, and prioritizing transit services for vulnerable persons in our state.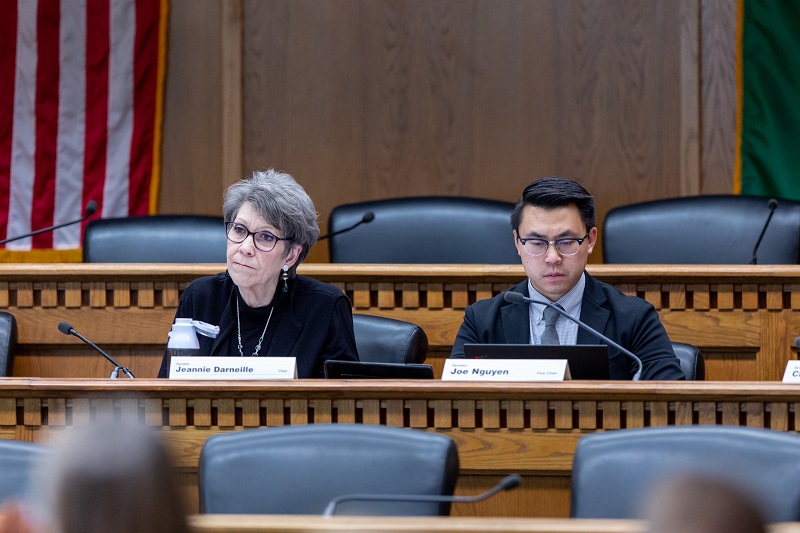 Upcoming committee work
This year, I continue to chair the Senate Human Services, Reentry & Rehabilitation Committee, where I take an open and inclusive approach to the decision-making process. The issues this committee tackles represent the heart and social safety net of our state. How will our state respond to the needs of those affected by federal cuts to assistance programs like SNAP (food stamps benefit), families in need of federal assistance, children in foster care, or youth involved with the juvenile justice system?
I will also be fighting to put people first in my positions on the Senate Housing Stability & Affordability and Ways & Means committees, as well as the Behavioral Health Subcommittee to the Senate Health & Long Term Care Committee.

Meet my team
This session I have a great team made up of my legislative assistant, Lisa Fisch, session aide Noelle Kappert and intern Laura Amador. They are helping me answer your calls, emails and meetings requests.
Please reach out to our office with your concerns about legislation at 360-786-7652 or at the toll-free legislative hotline at 1-800-562-6000. You can also send an email to Jeannie.Darneille@leg.wa.gov. Also, if you are having difficulty navigating problems with a state agency, you are welcome to contact my office.
We hope to hear from you soon!
Take care,
Sen. Jeannie Darneille