Dear friends and neighbors,
 Earlier this week I had one of the most unusual days in my 15 years working in the legislature. Five of my bills had hearings on the same day, stretched across three separate committees in an hour and a half! This was certainly a record for any Senator and a unique experience for myself, an event that will probably never have the chance of happening again.
All the bills I testified on hit a different but equally important element of my mission statement. These bills concern everything from opt-out HIV testing, to child support credits to veterans, to access to mental health services.
 Five bills in ninety minutes…ready…set…GO!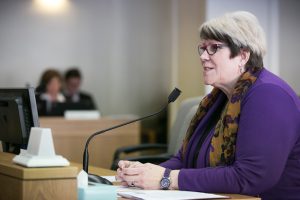 Two bills in Law & Justice
Starting the day off was my testimony in the Senate Law & Justice Committee on Senate Bill 5653, which would create a consistent protocol for collecting DNA samples at our jails and prisons as part of the standard intake process.
DNA samples can mean the difference between innocent and guilty. Since DNA samples are so important, this bill aims to strengthen DNA retrieval laws, requiring offenders who are serving a term of confinement in a city or county jail to give DNA samples immediately after sentencing and as standard procedure. This way, we will be able to get more entries into the CODIS system and hopefully solve more cold cases.
You can hear me speak on SB 5653 here.
Immediately after that my bill on veteran benefits was heard, which you can watch here. Under Senate Bill 5793, when the Dept. of Veterans' Affairs apportions a veteran's benefits to pay child support on behalf of the child, the amount paid will be treated as if the veteran paid the benefits toward the satisfaction of child support obligation. This bill aims to help children in poverty while also giving credit where credit is due.
One bill in Health Care
In my second committee of the day, I testified in the Senate Health Care Committee on Senate Bill 5728, which would permit opt-out screening for HIV infections.
This bill is a big leap forward from the experiences of three decades of HIV response when there was a great amount of stigma attached to HIV testing. At one time not so long ago secret and anonymous testing was the norm to protect people from insurance carriers who would cut health care benefits if it was known that a person was HIV positive.
Today, we have protections in place – HIPAA laws and restrictions on insurance providers from excluding patients based on preexisting conditions. Our new norm is for early testing to assure easy access to medications that will save lives and lower the chance for infecting others.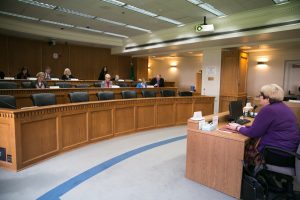 Two bills in Human Services, Mental Health and Housing
From there I moved directly on to the next committee, Human Services, Mental Health & Housing for the final two bills of the day.
The first bill heard in this committee, Senate Bill 5792, would establish a centralized Office of Forensic Mental Health services in the Department of Social and Health Services. Forensic evaluators provide services related to competency to stand trial and criminal insanity. The Office of Forensic Mental Health would have responsibility to, among other things, operate control of all forensic evaluation services, train forensic evaluators and develop a system to certify forensic evaluators and monitor the quality of forensic evaluation reports.
Here is the hearing on SB 5792.
My fifth and final bill, Senate Bill 5839, had a hearing. This bill is a technical fix related to our state's answer to the U.S. Supreme Court case, Miller v. Alabama, which decided it was unconstitutional to sentence juveniles to life without parole if they committed the crime as a juvenile.
This bill clears up any questions that might arise about whether sentencing enhancements apply when determining parole eligibility down the road. The bill adds cross-references that were missed in last year's bill.
Successfully juggling and effectively multitasking all of these hearings was a day unlike any other for me in the legislature. An even bigger shock is that all the bills are destined to make it out of their committees…what a day!!
As always, it is my pleasure to take on these challenges to make progress on these important issues and work for you, my constituents, in Olympia.
Take care,