Hello –
Entering week five in the 2014 Legislative Session, we have almost reached the half way mark of the session. Here is a little bit of what has been happening in Olympia.
Mark your calendars – Telephone Town Hall, Wednesday, Feb. 19th at 6 p.m.
All three of your 49th District lawmakers will be hosting and answering your questions in a telephone town hall on Wednesday, Feb. 19th from 6 to 7 p.m. During a telephone town hall, thousands of homes across the district are called and if you'd like to listen in or ask a question, just remain on the line. If you know you will not receive a call and would like to participate, please dial toll-free , 1-877-229-8493, and then enter PIN code No. 18646 when prompted. I look forward to speaking with you about our community and our home.
Straight from the floor – Senate votes on constitutional amendment
Last week the Senate voted on a constitutional amendment that would have required a two-thirds majority vote on all bills requiring taxes. I voted with my Senate Democratic colleagues to reject this amendment, as it would have allowed a small minority to rule over the majority. There is a reason our founding fathers did not include a two-thirds vote requirement in our Constitution: our democracy is built upon a simple majority rule, 50 percent plus 1. That's what makes it a democracy.
A two-thirds requirement would shift control to a very small, one-third minority. That means as few as 17 of our state's 147 legislators could block any action by the Legislature — a good recipe for political gridlock. It was not the intent of our Founders, or of the people, to cede control of our Democracy to a very few.
Our constituents and the people of Washington state expect us to do our jobs – to collaborate on good policy that moves our state forward, and to invest wisely in infrastructure like transportation that helps spur economic development. When we are locked in political battles and gridlock, no one benefits and we cannot govern as we have been elected to do.
Ideas into action – getting patients the mental health care they need
I introduced Senate Bill 6419 to the Senate Health Care Committee last week ahead of the first legislative cutoff deadline. During the interim, and from meetings with many constituents in Olympia and at home, I was able to take those ideas and develop a bill that will expand existing Medicaid arrangements between border communities. With the passage of this bill, border communities will be able to achieve critical access to mental health care in areas closer to home.
Often, when space is unavailable, people in need of mental health services end up waiting in local emergency rooms, sometimes for hours or even days. When we are able to partner with our friends across the border, we broaden the reach of access to our local communities and can help balance supply and demand.
There is no question of the intersection between access to quality mental health services and violence. Unfortunate recent events in our community underscore this intersect and critical need. While we cannot prevent every crime or tragedy, we can do our best to see that we are taking care of those most in need. The bill was moved out of the committee and now waits in the Senate Rules Committee.
Staying Connected to You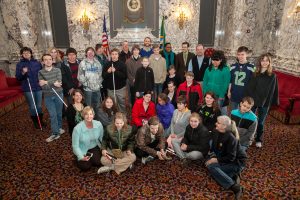 One of the best parts of the week is meeting with people from home. I was visited by students from the Washington State School for the Blind, DECA students, our region's PTA legislative chair and members from the Greater Vancouver Chamber. It is always an honor to serve you and our home community. Please visit the photo gallery on my website to see photos of your Legislature in action.
Until next time,