Hello –
As we begin week four in the Legislature, I'd like to share a quick update and let you know what I've been doing for you, our community and our state.
Ideas Into Action
I spend a great deal of my time, both in Olympia and during the interim, back home in our community meeting with constituents. It is my first responsibility to ensure that I listen to you — and the issues, challenges and ideas you share. As I work to bring a number of these ideas forward in the form of legislation this session, I will share periodic updates with you on these ideas.
This past week, I presented a bill that was heard in the Senate Health Care Committee that would help the Medical Quality Assurance Commission develop a proactive approach to its work through an education and quality improvement program for physicians and physician assistants. This quality improvement program would be an opportunity for physicians and physician assistants to hone their skills, receive additional training and work with other professionals without the need or threat of disciplinary action, before any need for that type of action occurs. In this way, we can better ensure that these professionals have the tools they need, thus increasing the safety of patients throughout our state.
On the Senate Floor – Protecting Middle-Class households in Our Communities
Last week, a bill came to a vote before the Senate that proposed a "reform" for our state's structured settlement system. This reform opens the option for all employees injured on the job to accept one lump sum of money instead of a settlement that would be paid out over time. I voted against this bill because, while this might sound like a reasonable idea in theory, young employees who are permanently injured and unable to be retrained in another career might accept cash settlements that don't truly cover their actual needs, and run out of money.
Why is this bill important to our community? All workers in our community and across the state deserve the surety to know that if they are injured on the job, their future is secure. Our households have enough to worry about as it is; suffering a permanent injury without receiving enough benefits to make ends meet should not be one of them.
Access to College and Greater Opportunity
The DREAM Act, to provide greater access to state need grants, remains a priority for me and for Senate Democrats. Last Friday, I was proud to support the DREAM Act that would extend to deserving children who grew up in our country without documentation the same access to eligibility for state need grants that our students currently receive.
Another other bill that passed on the floor with my support that day will broaden access to college by allowing our active-duty military servicemen and women the ability to qualify for in-state tuition if they relocate to our state. Both of these bills strengthen our community by allowing more people access to higher education and higher-paying jobs.
Staying Connected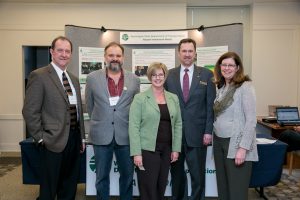 While I am in Olympia during the Legislative session, one of the most rewarding aspects of my days here are meetings with folks from home. Last week, I was pleased to meet with former 17th Legislative District Rep. Deb Wallace and members of our state's aviation community. I am very proud of the rich aviation history of our community. Pearson Field in our district serves as the longest continuously operating airfield in the country and is vital to not only our history but our future. The aviation industry and general aviation supports and spurs economic activity in our community and region.
In addition, our ability to be prepared for, and quickly respond to, emergencies and natural disasters is critical and our general aviation airports and pilots help to ensure that we are ready for any unforeseen event. Pearson Field is home to The Civil Air Patrol's Fort Vancouver Composite Squadron, which focuses on emergency preparedness as well as providing educational opportunities to our young people and search and rescue services. Pearson Field is a critical link in our region's transportation infrastructure system. I enjoyed the opportunity to discuss these issues and learn more about general aviation in our state.
For more photos of people I've met with during the week, I encourage you to check the photo gallery portion of my website.
Meeting with you in Olympia is one of the many ways to keep open the link to home. If you are in the Olympia area and would like to meet with me, please give me a call.
Until next time,