Dear friends and neighbors,
It's clear that the new coronavirus and the disease it causes, COVID-19, presents an unprecedented challenge. I am committed to doing my best to help you and your family get through this crisis.
That includes providing resources on measures to help people and businesses whose lives are disrupted. Below, you can find information on financial help available in Washington; how to file for unemployment or workers' compensation benefits; help with paying utilities, rent and mortgages; issues with insurance; food assistance; and much more.
Washington is committed to a non-political, non-partisan and fully science-driven decision-making process. We are making decisions based on data, evidence and science-based information in order to protect the health and wellness of our residents.
We all recognize that this crisis presents a historic change in our normal routine with many implications. Our economy – as well as each one of us, personally – is likely to experience profound consequences.
Each generation faces its own unique challenges. This is our time to come together as a community. I invite and welcome your ideas, thoughts and suggestions, as constituents, on how we can more effectively do that to manage this crisis. I will share your suggestions as appropriate with our state's front-line response team and other public and private sector officials.
Moreover, while government, business and community leadership is central to this response, every one of us holds the true power of action. We each have a public and moral obligation to care for ourselves and others by 1) avoiding gatherings and maintaining social distance, and 2) maintaining rigorous standards of hygiene.
You will literally save lives by following those guidelines.
Please take care of yourselves and one another, and please stay safe.
Your partner in service,
* * *
Federal, state and local agencies have announced measures to help people and businesses whose lives are disrupted. You can find some of the most important measures below, as well as on the state's Coronavirus Response website.
* * *
Employee Assistance
If you are temporarily out of work, Washington's Employment Security Department provides support services.
If you have lost your job due to coronavirus or have had to take time off to self-quarantine or care for a sick relative (and you don't receive paid sick time from work), apply for unemployment benefits.
If your job has brought you into direct contact with someone with coronavirus (e.g. you are a first responder or a health care worker) and you have become ill or are required to quarantine, file for workers' compensation benefits.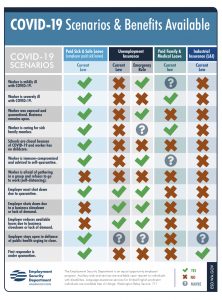 * * *
Consumer Resources
The Washington State Department of Financial Institutions has developed a list of financial resources for consumers impacted by coronavirus. This list will expand as more resources become available.
Health Care Coverage
If you are uninsured, the Washington Health Benefit Exchange has opened a special enrollment period through April 8. Call between 7:30 a.m. and 5:30 p.m. Monday through Friday at 1-855-923-4633; TTY: 1-855-627-9604.
Trouble Paying Rent or Mortgage
If you can't pay, contact your lender or landlord immediately. Help includes:
Student Loan Deferment
If you need help with your student loans, you may be able to temporarily suspend payments by applying for a deferment or forbearance from the U.S. Department of Education.
Paying Utilities
If you need help paying your utility bills, contact your service provider immediately.
Food Assistance
If you're looking for help feeding yourself or your family, visit the Food Lifeline website to find a partner food bank, food pantry or hot meal program in your neighborhood. This food is free and available to you, even if you don't qualify for SNAP or EBT.
Seattle Public Schools is serving lunch for all SPS students at certain locations from Monday through Friday, 11 a.m. to 1 p.m.
If you're currently enrolled in certain City of Seattle-supported child care programs or food assistance programs, you may be eligible for an $800 voucher to purchase food, cleaning supplies and other household goods.
Insurance Issues
Visit the website of the Washington State Office of the Insurance Commissioner (OIC) for insurance-related resources and information for consumers. The OIC has required all insurance plans to cover coronavirus tests with no cost-sharing and no prior authorization requirement for anyone who meets the CDC criteria for testing. The OIC also has required insurance plans to allow enrollees to refill prescriptions early, one time, in order to maintain an adequate supply.
* * *
Business Assistance
The federal Small Business Administration is providing low-interest loans of up to $2 million to help with operating expenses
The Washington State Department of Revenue can provide extensions on taxes or waive penalties
For businesses in Seattle, the City of Seattle has delayed B&O taxes for small business and established a small business stabilization fund to provide grants of up to $10,000
* * *
Additional Resources
* * *
Legislative Response
Prior to adjourning our constitutional 60-day session, the Legislature took bipartisan action to pass HB 2965, dedicating $200 million to our state's coronavirus response. The bill also:
Includes language to ensure people can receive unemployment insurance even if they can't meet the work search requirement due to quarantine or isolation, and mitigates costs to businesses due to increased numbers of workers receiving unemployment insurance
Gives the State Board of Education flexibility to address graduation requirements for the class of 2020
Offers reimbursement to nursing homes that aid in coronavirus response
The Legislature also amended SB 6189, which clarifies eligibility for school employees' benefits board coverage, to ensure that school employees can maintain health insurance eligibility for the remainder of the school year, even if they come up short of required work hours.
Additionally, the federal government has passed an $8.3 billion coronavirus response plan, although it remains to be seen how much of that money is destined for our state's response efforts.
* * *
Protect Your Health & Your Loved Ones
If someone you know has a fever and respiratory distress, they should call their doctor – not go to the clinic or hospital. Symptoms to watch for include fever, cough and shortness of breath.
The best preparation is to prevent the spread of infection with simple yet effective actions:
Practice social distancing: stay away from gatherings and keep a distance of 6 feet – about one body length – away from other people
Wash your hands often with soap and water for 20 seconds (singing 'Happy Birthday' twice)
Cover coughs and sneezes with your elbow, sleeve or a tissue (not your hands)
Avoid touching your face, eyes, nose and mouth
Avoid hugs or handshakes
Clean and disinfect frequently touched objects and surfaces
Use hand sanitizer when unable to wash your hands
If you have symptoms and do not have a doctor to call, you can call the King County Novel Coronavirus Call Center at 206-477-3977 or the Washington State Novel Coronavirus Call Center at 1-800-525-0127.
More resources are available at the website of the Washington Department of Health.